East Slang (Arunachal Pradesh). The four day Arunachal Pradesh Ghosh camp organised by Rashtriya Swayamsevak Sangh (RSS) got concluded here on November 16 with a massive public meeting held at bus stand ground. The trainees and trainers from different districts of Arunachal Pradesh participated in this camp which was held at the Ngorlung Govt. Middle School Premises. Throughout the duration, native people and various resource persons visited camp and observed the training process and discipline of RSS.
Addressing the huge audience at the concluding program, Shri Pradeep Joshi, the RSS organizing secretary of Arunachal Pradesh welcomed the Chinese Communist Party's stand which, as a step of introspection would include the values of freedom and democracy into their classrooms via songs and poems, without which, as was quoted by Chinese official Xinhua news agency published in the Global Times newspaper, China has lost its moral compass in last three decades. It is noteworthy that the Chinese communist party's spokesperson had recently stressed as per the line of the Chinese President Xi Jinping to amend textbooks in Chinese history and morality to restore Chinese greatness.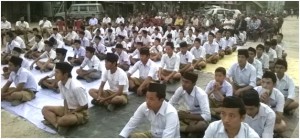 Shri Joshi in his speech today dared the cadres from CPI, CPM and CPI(ML) to emulate lessons of patriotism from their so-called role-models from the Chinese communist party. Addressing to massive geathering, Shri Joshi pointed out that the pseudo-seculars and selfish politicians are the real enemies to national integration. Arunachal in order to progress must follow the path of development through culture and traditional social values. The RSS works hand in hand with people of Arunachal in order to make a self-sustainable society. The youths and intellectuals of this remotest hilly state must be cautious about the emerging serious threats of global warming and economical aggression involving world powers.