Pathanamthitta. After the opening of the Sabarimala temple for Mandala Makaravilakku Pilgrimage, Sannidhanam is crowded with devotees. The temple opened at 3 am. The sanctum sanctorum was opened and lit by the newly appointed chief priest K Jayaraman Namboothiri.
Pilgrims will also reach Sannidhanam through spot booking at 12 places. The Devaswom Board has decided to make more arrangements at Sabarimala as the crowd increases.
Sabarimala was opened for pilgrims yesterday. As it was the first pilgrimage season after the restrictions due to the corona pandemic, tens of thousands of devotees had come to have darshan on the first day itself.
Sabarimala temple opened for Mandala pilgrimage season on Wednesday. In the presence of Sabarimala 'thantri' Kandararu Rajeevaru, the head priest opened the sanctum sanctorum of the temple, and lit the lamp.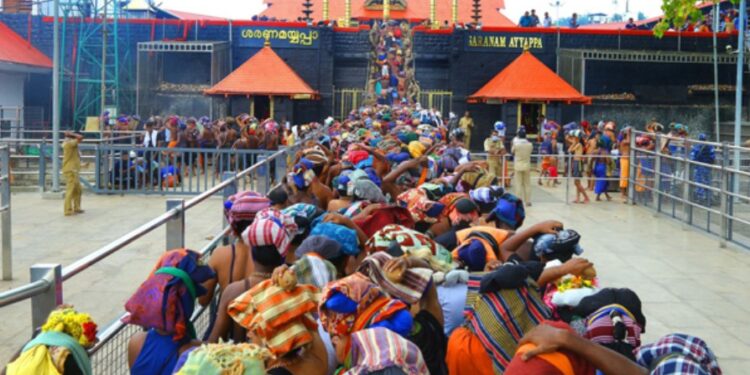 New head priests took charge at Sabarimala and Malikapuram temples. K Jayaraman Namboothiri took charge as Sabarimala's head priest, and Hariharan Namboothiri took charge as Malikappuram's head priest.
Live booking facilities have been set up for the devotees, who could not book their darshan slots via online mode. At least 10 counters will open in Nilakkal solely for this. No fee will be incurred to book for darshan. Police will examine the tickets near Anjaneya auditorium in Pamba.
Kerala police circular asserts anyone can enter Sabarimala temple; will be withdrawn, says minister
Reminding the entire episode that shook Kerala a couple of years ago, a handbook was distributed among policemen which starts from saying anyone can enter the mighty Sabarimala temple.
The handbook, provided to all officers on Sabarimala temple duty, states everyone has access to the hill shrine.
Meanwhile, Devaswom Minister K Radhakrishnan on Thursday said the police handbook, in which the Supreme Court's verdict allowing the entry for women has been referenced, will be withdrawn.
Radhakrishnan clarified that the government has no intention to allow entry for all into Sabarimala and that decisions will only be made in accordance with the court order.