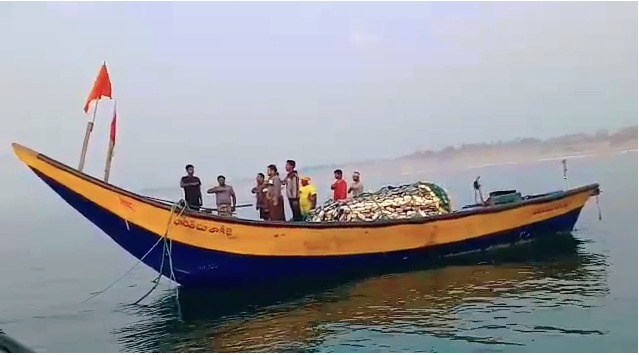 Andhra Pradesh. It will not be an exaggeration if we say there is hardly anyone who doesn't know about the RSS in our country. Its swayamsevaks are well known for their service work, patriotism, discipline and commitment. They are the first persons who respond to help people whenever any calamity happens in the country. They plunge into action immediately and help the needy. There are many incidents in which they extended their helping hand disregarding all the odds like severe sun, heavy rains, freezing cold or rough and precarious terrains and cruel wild animals. The well planned Physical and mental training they receive in the daily Shakha helps them to overcome all the difficulties.
That's why Swayamsevaks give utmost priority to their daily Shakha. Even in the Corona lockdown period, virtual Shakhas were conducted throughout the country. This perseverance and commitment make them unique.
Recently a very unique incident took place near Andhra-Orissa border in a village called Kothapalem in Kaviti mandal of Srikakulam district. Some fishermen of this village are RSS swayamsevaks. On 24-01-2022 (Monday) they went into the sea as usual at 3 am. As they were floating on the sea, the Sun rose, came up and it was 8:00 am.
These fishermen have a habit of attending the Daily Sakha by 7 am. They perform different activities up to 8 am. After that they sing the RSS prayer. But now they were on the sea and there was no chance to conduct Shakha. They were not willing to avoid it. So, they erected the saffron flag at one end of a boat, stood in a line, saluted the Bhagva Dhwaja and uttered the RSS Prarthana, 'Namaste Sada Vatsale Matrubhoome'.
It was a great surprise for their fellow fishermen watching from another boat nearby. One of them took his cell phone and recorded this moment and got viral on internet. When, VSK correspondent interacted with those fishermen who conducted Shakha on a moving boat, they said it was quite common for them. Whenever they are away from their village at Shakha time, they conduct Shakha on the boat itself.