New Delhi. Welcoming the journalists to the Constitution Club, Vrinda, General Secretary of Sant Eshwar Samman Samiti, introduced the onstage personalities.
Giving insight on Sant Eshwar Samman, Vrinda said that every year organizations and individuals are honored by Sant Eshwar Samman, who work for the betterment of the society while being away from the limelight. This honor is given in individual and institutional form mainly in four areas – Tribal, Rural Development, Women-Child Development and Special Contribution (Arts, Literature, Environment, Health and Education) in three categories – 1 Special Service Award, 4 Vishisht Seva Samman and 12 Seva Samman. In the past years, 84 individuals/institutions have been honored by the institution and out of these 6 individuals/institutions have also been honored with Padma Awards by the Government of India later.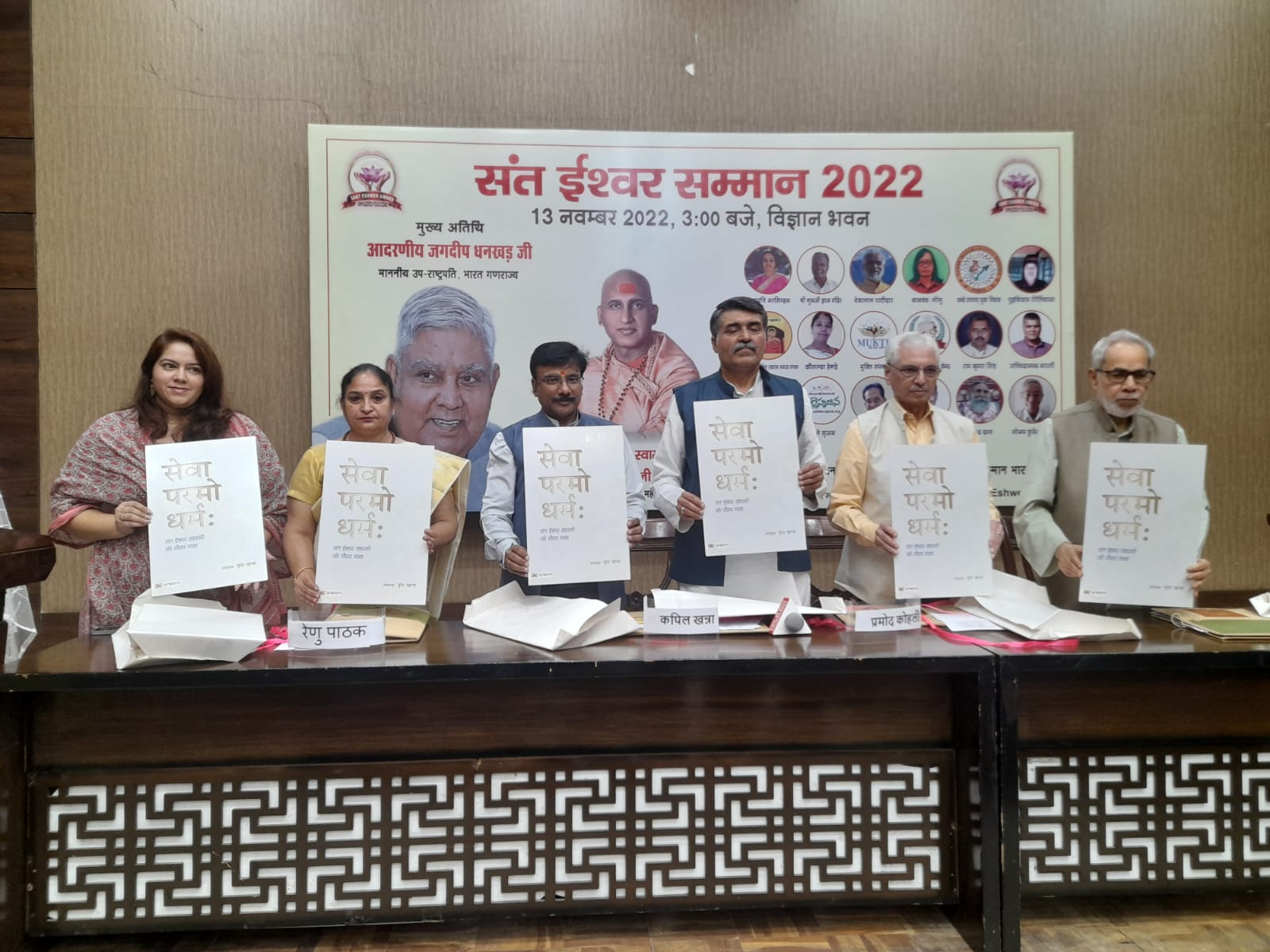 The President of Sant Eshwar Foundation, Kapil Khanna, while addressing the journalists said that this year Sant Eshwar Samman is going to complete a century (100) of giving awards since its inception. This award is given every year in association with Rashtriya Sewa Bharti.
Kapil Khanna said that on this historic occasion many dignitaries including Honorable Vice President Jagdeep Dhankhar ji and Juna Peethadheeshwar Pujya Swami Avdheshanand Giri ji Maharaj will be present at Vigyan Bhawan on Sunday, 13th November at 3 pm on this historic occasion. This year also this honor is being given to the organizations and individuals working at the grassroot level for the socially backward classes. Especially in this function, a book based on 100 such selfless personalities will be released who have made remarkable contribution in various fields of social welfare. During the press conference the cover page also launched.
Kapil Khanna said that while embodying the spirit of Seva Parmo Dharma, the jury of this honor S. Gurumurthy CA, Director (Reserve Bank of India), Pramod Kohli – S.N. Chief Justice (Sikkim High Court); seni. President, Central Administrative Tribunal (CAT) Padma Shri Jawahar Lal Kaul – Senior Journalist, President, Jammu and Kashmir Study Center, Padma Shri Ram Bahadur Rai – President, Indira Gandhi National Center for the Arts, Shri Pannalal Bhansali – President, Rashtriya Sewa Bharti and Shri Gunwant Kothari, All India Working Member, Rashtriya Swayamsevak Sangh devoted its time in selecting the persons/institutions doing the work of social welfare for the society in the poor and backward regions all over India. We thank them too.