Vadodara. RSS Sarasanghachalak P.P. Dr. Mohan Rao Bhagwat  met the Gaekwad royal family in Vadodara on June 27.
RSS chief, who is en route to Garudeshwar in Narmada, where he will attend the celebrations of the centenary death year of Maharashtra spiritual leader Vasudevanand Saraswati Maharaj.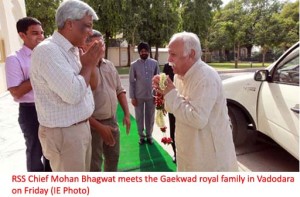 Dr. Bhagwat, who made a brief stopover for about an hour at the Lukshmi Vilas Palace to meet the royal family of Vadodara – Rajmata Shubhangini Devi Gaekwad and scion Samarjit sinh.
"I am here because I have been friends with Samarjit sinh for some time. When he comes to Nagpur, he meets me. So today I am in Vadodara and I met him. I have decided to meet my friends here whenever I am in Vadodara. Samarjit is already a part of our circle but I just think it is important to renew ties since we do not speak regularly." said Bhagwat
When asked about Vyapam scam, Mohan Bhagwat said, "It is a matter that is in the legal jurisdiction and will be decided accordingly. The Sangh has nothing to do with it nor is it in our realm of things."
Mohan Bhagwat, who was accompanied by Sangh workers proceeded in a convoy  from Vadodara to Rajpipla where he will now spend the night at the residence of an RSS functionary Ravi Deshmukh. He had arrived in Vadodara by train earlier on Friday morning.