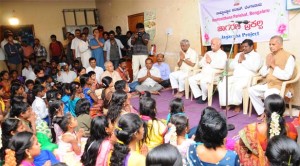 Bengluru. P.P. Sarasanghachalak of RSS Dr. Mohan Rao Bhagwat on Friday, Nvember 14 visited a slum (seva basti) at Hombegoudanagar, Wilson Garden in Bengaluru and interacted with children, local residents there.
Mohanji  Bhagwat was welcomed by Sri Pandyan, President of Dr. Ambedkar Sangha, Later women, the local residents welcomed Dr. Bhagwat in traditional style by Aarati and Tilak. Bhagwatji then paid floral tributes to Dr. Ambedkar statue. Later Bhagwatji visited few houses of Hombegoudanagar Slum. Bhagwat had fruit juice of the house of Srimati Muniyamma, a Dalit woman of the slum.
Later, Dr.  Bhagwat performed pooja at Sri Muttu Mariyamma temple situated within the slum. Bhagwat attended an interactive session with the children, local residents at Dr. Ambedkar Anganavaadi Kendra, besides the slum. Children chanted Gayatri mantra, few shlokas, Kabir's Doha, and a patriotic songs.
Addressing the children, Sarasanghachalak  said. "Gaayatri mantra is dedicated to Sun. In the absence of Sun, a small and ordinary lamp (Hanate) is capable providing a minimum light to its surrounding till it has the oil. Similarly in our nation, the ordinary people are much capable, not the Netas always, We are all ordinary citizens, should put  our maximum energy like a lamp to contribute for the society-country, then we can achieve greatness".
Kshetra Karyavah Ramakrishna Rao, Kshetra Pracharak Mangesh Bhende, Prant Karyavah N Tippeswamy, Sah-Prant Karyavah BV Sridharswamy, Rashtrotthana Parishat's Dinesh Hegde and other prominent Sangh adhikari attended the event.
Background of Sarsanghchalak's visit:
The Rashtrotthana Parishat is serving in 210 'Seva Bastis' (slums) all across Bengaluru. The Wilson Gardan's Hombegowdanagar 'Seva Basti' to which RSS Sarasanghachalak Shri Mohan Ji Bhagwat visited,   is one of them.
The 'Seva Bastis' have coaching centres for children, day nursery, Balagokula, Computer and tailoring training centres. Regular health check-up camps, Bhajan recitation, mobile libraries and several other vocational projects are also undertaken here by the Parishat.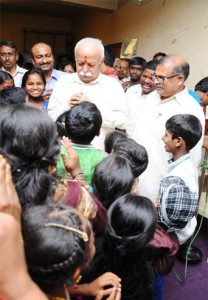 Apart from the Rashtrotthana Parishat, other RSS inspired organisations like the Hindu Seva Pratishtana, Keshava Seva Samiti are serving in 80 such 'Seva Bastis'. Organisations like Abhyudaya and Sneha Seva Samiti are also similarly serving in 45 'Seva Bastis'.
Impetus is given to the education of under-privileged kids, their cultured upbringing and to the health and self-reliance of women in the locality.
Hundreds of literate girls who arrive at such 'Seva Bastis' have been trained and are working as teachers and healthcare workers today.
Volunteers come across orphaned, underprivileged, rag picking kids, children involved in manual labour and those who have run away from their homes while working at 'Seva Bastis'. 287 such kids have been rehabilitated at 7 centres of Nele and at special hostels similar to Nandagokula.
Training in computers and other skill sets are being provided to the adolescent kids at these 'Seva Bastis'. Several corporates have joined hands in providing skill-based training to the residents here.
Institutions like Lions, Rotary have co-operated and rendered their services in the endeavour of providing quality healthcare and bringing about self-reliance among women in the 'Seva Bastis'.