The Supreme Court on Thursday refused to entertain a contempt petition moved against Thantri of the Sabarimala temple. The Chief Justice of SC replied that there was no urgency to consider the contempt petition as the review is coming upon January 22.
The fervent plea made by the petitioners' counsel was rejected by the court. The CPI(M)-led LDF government has been acting through proxies in the apex court.
Ayyappa devotee stoned to death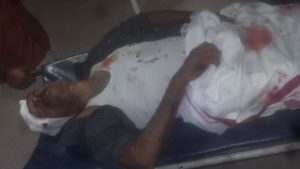 Shri Chandran Unnithan who was injured in stone pelting done by cpm goons today morning passed away at believers hospital. The CPM goons resorted to stone pelting from thier office against the peacefull protest conducted by shabarimala karmasamithi against the deception of communist government in shabrimala at pandhalam today (02nd Jan. 2019) morning.
Postmortem report belies CM Vijayan's claim on devotee's death
An Ayyappa devotee who died in stone-pelting by CPI(M) goons at Pandalam in Pathanamthitta district died due to mortal injuries on his skull, according to the post-mortem report. However, in a press conference, Chief Minister Pinarayi Vijayan said the victim, Chandran Unnithan, a resident of Kurambala, died of cardiac arrest much before the post-mortem report was out.
Malayalam TV channels showed visuals of CPI(M) goons pelting stones on a Sabarimala Karma Samithi march from their party office in Pandalam. According to reports, when they ran short of stones, they broke tiles from a nearby house and threw them on the devotees.