Bengluru. Three-day national archery contest for Vanvasi youths begins in city. The Centre is planning to implement a scheme to identify and promote sports talent among Vanvasi (tribal) youth.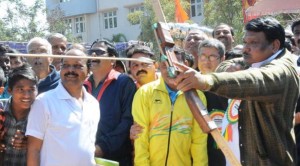 Disclosing this after inaugurating the national archery competition organised for Vanvasi (tribal) youth by the Akhil Bharatiya Vanvasi Kalyan Ashram at Varthur, near here, Union Minister for Tribal Welfare Jual Oram said the main intention was to use the natural flair of the Vanvasi (tribal) youth for sports to further train them.
Similarly, efforts were on to introduce another scheme for the protection of Vanvasi (tribal) culture, including their language and dialects. The exact nature of these projects, including the financial requirements, was being worked out, he said.
These two proposals were in addition to the Vanbandhu Kalyan Yojana, which was recently launched on a pilot basis in 10 States for vanvasi (tribal) welfare, the Minister said. Under this pilot project, to be implemented in one taluka in a State, local committees comprising tribal representatives as well as local elected representatives would be formed. These committees would decide on the components to be included in the project. The Centre would only provide Rs. 10 crore a year to each of these talukas for Vanvasi (tribal) welfare, he said.
Earlier, Mr. Oram, who hails from a tribal community, inaugurated the archery competitions.
About 250 Vanvasi  children and youth from 22 States as well as the neighbouring Nepal are taking part in the archery contest. The organisers said the main intention behind the event was to provide an opportunity for Vanvasi  talents to shine.
Source: The Hindu: Bengluru, December 27, 2014