New Delhi. The first ever World Hindu Congress 2014 organized by World Hindu Foundation at the Hotel Ashok, New Delhi, Bharat, saw a huge number of delegates pouring in from all across the world on the second day of the conclave. The theme envisioned for this historic event is the Hindu principle of Sangachchhadhwam Samvadadhwam, which means "Step together, express together". There were 7 parallel conferences held at any given time during the day, with eminent personalities from varied fields spoke on issues like the role of Hindu organisations in positioning, strengthening, defending and promoting Hindu Dharma and society; connecting Hindu Economy worldwide and encouraging young Hindu entrepreneurs; developing a common strategy for safety and security of Hindu worldwide and in hostile environment and countries; united efforts in adverse and complex political situations; Hindu youth campaign against human rights violation, among other issues.
Speaking on Hindu Women's Participation in Politics and Social Leadership at the Hindu Women Conference,  Dr. Nirmala Sitharaman, Minister of State for Commerce and Industry said that there are various examples of how women has had a role in politics which is not narrowed to holding positions. "She is a journalist cum a politician cum a woman activist cum a historian cum a dancer… tell me how many men can match up to that? So what we need is we should have our achievements recorded. Document your work, show it out. We are not speaking only for ourselves but it is a contribution to women in every segment of our life as we have always had but in 21st century it requires a certain narration…that's what is missed out on" said Sitharaman.
At the same conference Dr. Kiran Bedi, Social Activist talked about the 4S model of Saksharta, Swacchta, Sakshamta and Sanskar. She said "Bharat needs this 4S… As a bureaucracy, as social workers, as teachers, as mothers, as parents…you cannot leave it to one man only. You cannot just leave to a small cabinet only. You cannot leave it only to the council of ministers; we have to be there wherever we are. We should be seen to be driving this movement… This lies in the hands of women. If we are determined to go beyond the rhetoric, beyond the speeches, if we get into the mode of actual action and not for photo opportunities, you will see Bharat changing within next two years."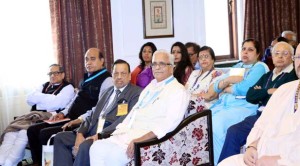 At the Hindu Media Conference hosting a session on Entertainment Media, Film-maker Shri Priyadarshan talking about the identity of Bharatiya cinema in the international scenario said "At one moment we started realizing that many of our cities and towns have to change their names because of the wrong pronunciations of the Britishers… So I would like to ask if Bombay can become Mumbai, Madras can become Chennai, Calcutta can become Kolkata, why can't Bollywood also change its name? That should be the beginning".
Highlighting the plight of Tamil Hindus in Sri Lanka, Justice CV Wigneswaran, CM Northern Province, Sri Lanka at the Hindu Political Conference said "We are very conscious of the unity that is essential from the point of view from the group level. We are trying to forge understanding and unity as far as the larger group is concerned of Hindus because the Hindus form 80-85% of the Tamil-speaking population of the northern and eastern provinces. So we would like to bring united understanding with regard to how we should be able to go forward".  Shri KPS Gill was the chairperson at this session that discussed the strategy for safety and security of Hindu in hostile environment of Jammu & Kashmir, Kerala, Assam, West Bengal and countries like Pakistan, Bangladesh and Afghanistan.
Talking on business opportunities and market access at the Hindu Economic Forum, Ravindra Dev, Sanghachalak, Hindu Swayamsevak Sangh (HSS), Guyana said, "Businessmen of Bharatiya origin settled in abroad have forgotten their own identity. It's time for them to recall back the glory. Bharatiya today have reached at such a height that they should realize their own true identity. We are present in every corner of this world; just a self-recognition would help us to define our true identity of being a Hindu".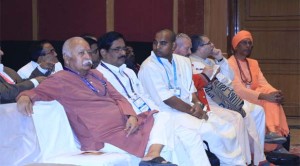 Referring to 'Hindutva' in the state of Guyana he further added, "We have retained the essence of Hinduism in every possible way. We live up to it every day by following the rituals properly. Guyana is a state that witness national holidays on Holi. We have to bridge up this gap by spreading this essence with the people here in Bharat. We should educate them that 'Hinduism' is our way of life, no matter where they are dwelling, in India or abroad."
The inaugural session on November 21st, 2014 was addressed by His Holiness the Param Pawan Dalai Lama, Dr Mohan Rao Bhagwat,Param Pujya Sarsanghachalak, RSS, Shri Ashok Singhal, Patron, Vishwa Hindu Parishad and Justice CV Wigneswaran, Chief Minister Northern Province Sri Lanka. The 3-day World Hindu Congress is hosting 7 parallel conferences and 45 sessions, with 200 eminent speakers, and 2000 delegates from over 54 countries.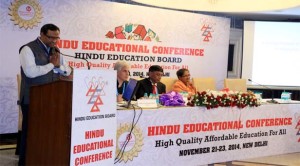 The main idea behind the World Hindu Congress is to provide a global platform for Hindu society to deliberate and formulate solutions to the myriad challenges being faced by Hindus worldwide and to devise workable and tangible solutions that can be implemented. The congress aims to take the movement for Hindu solidarity to the next level. "This task needs to be undertaken with a single minded focus of rebuilding the spiritual and material heritage of Hindus.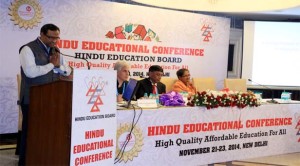 Inaugurating the conclave His Holiness the Dalai Lama said that Buddhism and Hinduism are spiritual brothers and noted that ancient Hindu values of non-violence and religious harmony can play a big role in "spreading harmony" in the word. He also stressed on the need to develop "knowledge of mind" and to remember "sameness of humanity".
Speaking on the occasion Dr. Mohan Rao Bhagwat, Param Pujya Sarsanghachalak, RSS said "A Hindu means a human being who seeks unity in all diversity". Referring to Swami Viveknanda's words "arise, awake and not stop till the goal is reached,"  Dr. Bhagwat said "let us start our work in all walks of life – media, academia…leadership based on our values is required. Let us demonstrate that capability. We have to work on values of sameness of humanity."
The conference delegates are people of accomplishment and achievement, committed to working for the Hindu rise and resurgence, and are mostly from the rank of activists, academicians, scientists, educationists, founder of universities, managing trustees, chancellors, vice chancellors, prominent industrialists, businessmen from diverse industries and business, bankers, economists, business association leaders, parliamentarians, legislators, youth leaders, leading journalists, editors, promoters of media and leaders of Hindu organizations.
Speaking at the Hindu Educational Conference, Smt. Smriti Irani, Minister of Human Resource Development emphasised, "Our education system should focus on imparting values of humanity to our students". She further added that all government and university libraries will be digitalised so that free education could be possible for all.
Speaking at the World Hindu Economic Forum, Smt. Nirmala Sitaraman, Minister of State for Commerce and Industry, said "If we look at it in broader perspective investments done in abroad, is much more than what they have done in our country. We should get conscious now with our investments now. Theirs is less than 1% growth of economy in Europe and many others. We welcome them now to come and invest in Bharat".
At the same forum, Shri. Nitin Gadkari, Minister of Road Transport & Highways, said "We shall change the system with more commitment; transparency and efficiency. We have to get at par with the economy of China. I believe minimum of government, with maximum governance is a perfect way towards it."
Under the World Hindu Congress, 7 parallel conferences are being held, the themes of which are mentioned as under:
World Hindu Economic Forum is to provide a global platform to Hindu businessmen, professionals, and aspiring entrepreneurs to play an important role in the world economy as well as play a decisive role in making Hindu Society Prosperous.
Hindu Educational Conference conducted by Hindu Education Board:
(Theme: Creating and Networking Educational Resources for Civilizational Re-emergence): The world is rapidly moving towards becoming a knowledge based society and economy. It is necessary to ensure that all members of society receive high quality and affordable education regardless of their social and economic status.
Hindu Youth Conference conducted by Hindu Student Youth Network
(Theme: Together Towards Tomorrow): Main aim of the Hindu Youth Conference is to provide a platform to Hindu Students & Youth from all over the world to discuss problems confronting Hindu society and formulate solutions to those challenges.
Hindu Media Conference conducted by Hindu Media Forum
(Theme: Truth is Supreme): It is imperative that Hindu establish themselves and have vigorous presence in all forms of global media.
Hindu Women Conference conducted by Hindu Women Forum
(Theme: Increasing the Role of Women in Hindu Resurgence): Women comprise approximately fifty percent of Hindu society, and are playing an increasingly important role around the globe in many important fields. In this changing world, the conference aims to come up with strategies of how Hindu women can be at the forefront of the Hindu resurgence.
Hindu Organizational Conference conducted by Hindu Organization, Temples and Associations
(Theme: Sanghe Shakti Kalyuge, Organization is Strength): The idea behind this initiative is to provide a platform for the Hindu organizations, associations and institutions that are nobly working to serve Hindu society in their individual capacities. The main objective is to bring them together through effective networking and empowerment so that they can serve Hindu community in an improved manner.
Hindu Political Conference conducted by World Hindu Democratic Forum
(Theme: Responsible Democracy for All): With politics playing a decisive role in modern societal discourse, this must become a priority of the Hindu resurgence. The conference will provide a platform to Hindu Parliamentarians, Legislators, Ministers, Diplomats and Aspiring Politicians from all over the world, so that Hindu politicians can develop strategies to strengthen Hindu society in their respective countries.
Prominent speakers includes: His Holiness Dalai Lama, Dr. Mohanrao Bhagwat, P.P.Sarsanghchalak, Hon'ble Ministers: Shri Nitin Gadkari, Minister of Road Transport and Highways, Smt. Smriti Irani, Minister of Human Resources Development, Smt. Nirmala Sitharaman, Minister of State for Commerce and Industry, Dr. Ashni Singh, Minister of Finance, Republic of Guyana; Eminent Scientists: G. Madhavan Nair, Dr. Vijay Bhatkar, leading educationists: Prof. S.B. Majumdar, Dr. G. Visvanthan, Prof. Kapil Kapoor, Film Makers Priyadarshan and Major Ravi, Popular film actress from South Smt. Sukanya Ramesh.
While the first World Hindu Congress is primarily organized by the World Hindu Foundation, Hindu organizations, associations and institutions from around the world are participating in the first ever World Hindu Congress.