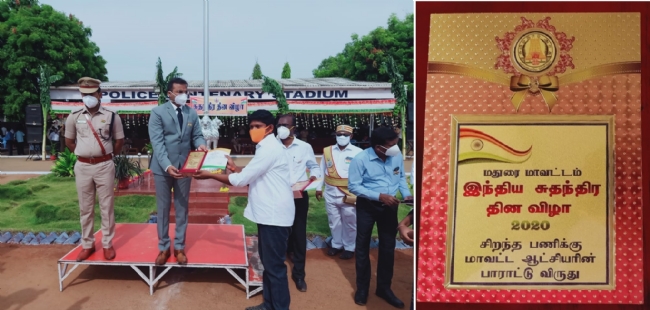 Chennai. Madurai District collector felicitated the Seva Bharathi for its exemplary service during the lock down period on the eve of Independence day.
Seva Bharathi Tamilnadu proactively swung into action right from 24th March 2020 understanding the gravity of the situation. Observing the impact COVID-19 had on the day to day life of poor people/daily wage earners and created a hunger situation, Seva Bharati volunteers with the primary objective to serve the needy people, worked continuously for many weeks.
Seva Bharathi – Keshava Seva Kendra (Madurai) got a rare honour from the district administration. On 15th August, the District collector Dr. Vinay presented a certificate and medal to Madurai district Prachar Pramukh Raghuman who was in-charge of preparing food packets to people affected during COVID-19 lockdown period. This is for its exemplary services to the people who lost their livelihood.
The volunteers started with preparing food and distributed them across different districts and locations. Even during these challenging times under lockdown conditions, the Seva Bharati volunteers adhered to all the statutory regulations and did not compromised their service. Later, after gauging the emerging situation, Seva Bharati also moved into distributing grocery kits to needy families.
Meanwhile, Thiruvannamalai District collector K.S.Kandasamy felicitated a woman police inspector Alli Rani for carrying the body of a man who died of corona shock, after dead man's relatives and others refused to carry. On the 74th Independence celebrations, the collector presented a certificate, medal to her. To the surprise of everybody he asked her to climb on the dais. He came down to give her a royal salute.
The district collector, with humane face, had earlier saved children from orphanages where they were sexually assaulted and helped many poor students to pursue higher studies. He had recently helped a poor girl by bearing her educational expenses while promising to build a house for their family. He has been helping students in many ways to continue their studies besides rescuing bonded labourers and children in distress.
Organiser