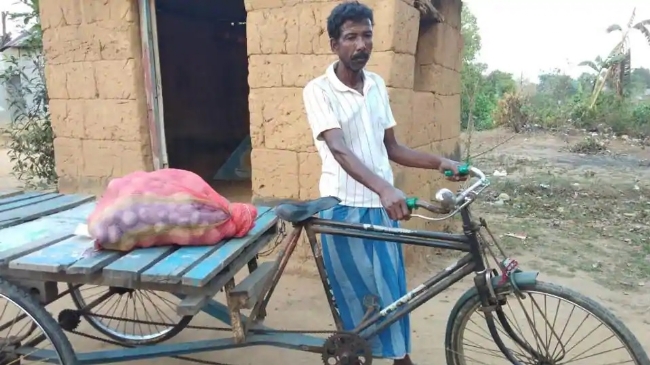 New Delhi. PM in his 'Mann ki Baat' on 31st May mentioned Gautam Das of Agartala who feeds the needy by buying rice and pulses out of his savings from his daily earning working as a handcart puller. His concern for his fellow Indians in general and the poor in the vicinity has won him hearts from across the country.
51 year old Gautam Das earns just about Rs 200 daily working as a handcart puller. His work includes transporting goods from one place to another in Agartala. From his earnings he had saved a meager amount of Rs. 10,000 when lockdown was announced in the country to fight Corona.
Just as any daily wage earners, Gautam Das too was concerned about the immediate future and means of livelihood. But he was more concerned about those who were poorer than him. Instead of sitting idle and brood over the situation, he decided to help the needy in the city with his own savings.
Gautam Das used his savings and bought rice and pulses and made packets out of it. He then started to take these packets in his handcart and distributed them for free to the needy in the city. Till now Das has distributed such packets to more than 160 families thus saving them from hunger. Das has spent more than Rs. 8000 from his savings for this yeoman deed and saved more than 160 families from hunger and distress.
Being from a disadvantaged section of the society, Gautam Das did not sit simply thinking about his livelihood in lockdown. He simultaneously thought of other poor families and daily wage labour like him.