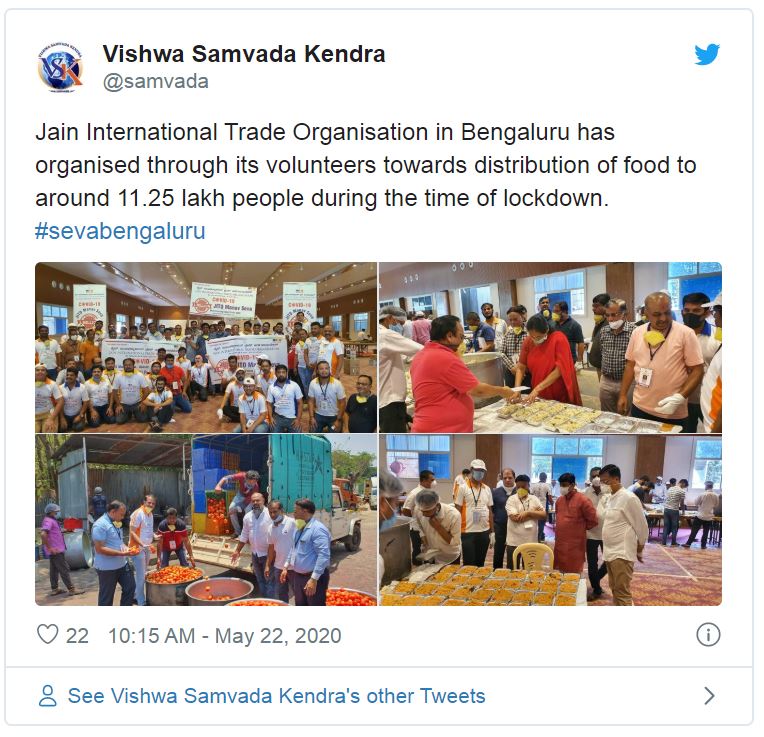 Bengaluru (VSK). We have read in our previous posts about the Seva activities which RSS Swayamsevaks were part of. Kits to poor and needy. Food and water bottles to many were distributed by the Swayamsevaks during the time of #Covid19 lockdown.
Multitude of such activities by the people in the same society was observed. Some were involved in grocery kits distribution, mask preparation and distribution some extending the help to the migrant workers who were stranded, farmers who were not able to sell their produce and many like them, There were some who aggregated money from friends and relatives with the only intention of Seva. #sevabengaluru
For instance, Ku Shwetha collected ~8 lakh from friends, known people via social media, especially Instagram, utilised the same for Seva activities including distribution of ration kits, organising farmers sell their produce,arrange food for doctors,nurses, needy. Salutes to her #seva.
What she precisely did?
– Supply of vegetables to 3000 people
– Supply of special food to over 300 doctors, nurse & staff of Victoria hospital & Sanjay Gandhi Hospital everyday
– Connected farmers of Attibele to apartments in RR Nagara for sale of vegetables directly
– Over 100 ration kits supplied to Personal security guard of film /TV celebrities
– Ration kit supply to over 150 make up artists
– Supply of cooked food to over 350 kids near Bannerughatta Road
VSK, Karnataka and Samvada team spoke to may such seva enthusiasts and have published some of those