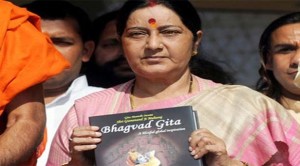 New Delhi. On the eve of 5151th anniversary of Shree Bhagwat Geeta, External Affairs Minister Shusma Swaraj urged the central Government to declare Shree Bhagwat Geeta as a National Holy book .She was addressing on Geeta Prerna Diwas to mark the 5151th years of the Bhagwat Geeta. She expressed that she is not attending in the capacity as a minister but as a sadhak. I am getting strength from the teachings of Bhagwat Geeta and able to face the challenges as an External affairs Minister. She said  Bhagwat Geeta is a solution to everyone's problems. She also informed the gathering that United Nations is shortly going to declare 21st June as a World Yoga Day.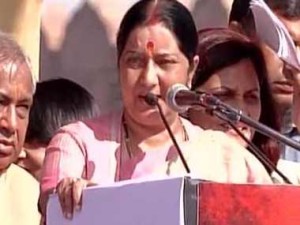 On this occasion The chief minister of Haryana, Shri Manohar Lal Khattar desires to issue a Postal Stamp on Shree Bhagwat Geeta,  if get permission from the Prime Minister Narendra Modi. The English Translation of Shree Bhagwat Geeta "Bhagwat Geeta A Blissful Global Inspiration"  was also released in today's function .
Earlier, the Mahotsav was organized under the Chairmanship   of "Global Inspiration and Enlightenment Organisation of Bhagwat Geeta"Swami Gyanand Maharaj at Lal Quila ground,New Delhi.
Central Tourism Minister Mahesh Sharma, senior leader of BJP JagdishMukhi, MD of Medanta Medicity  Dr. Naresh Trehan and others were also present on this occasion.