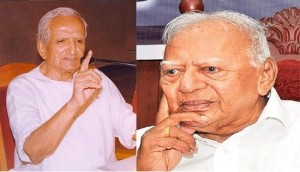 Thiruvananthapuram. Expressing the deep condolence over the demise of Justice V R Krishna Iyer, Swadeshi Jagaran Manch National Organising Secretary Kashmiri Lal and National Co-convenor R Sundaram remembered the words of Krishna Iyer about the founder of Swadeshi Jagaran Manch Dattopant Thengdgi that he was the Mahatma of second freedom struggle of Swadeshi Movement in Bharat.
They also remembered that Krishna Iyer had inaugurated the first National Conference of Swadeshi Jagran Manch in Delhi. Krishna Iyer found that the struggle initiated by Swadeshi Jagran Manch against globalisation in the early 1990s was crucial and therefore joined hands with the SJM.
Remembering a meeting with Krishna Iyer, they said "In the fight against the globalisation and salvaging the self reliance of the nation, Krishna Iyer shared platforms with Swadeshi leaders like Dattopant Thengadi and strengthened the cause."
The SJM can never forget the stand taken by the Krishna Iyer against the Coca Cola Plant in Plachimada, where the organisation backed the anti-cola agitation. When the court directed the Perumatty panchayat (village council) to renew Coca-Cola's license to re-open its bottling plant in Plachimada in June 2005, as a former Supreme Court Judge Krishna Iyer openly came out against the Court Judgement and supported the cause of the agitation.
Justice Krishna Iyer used judiciary as a means to serve both the nation and the poor. He was committed to the democratic values of the nation and actively contributed to the intellectual process of India, they added.