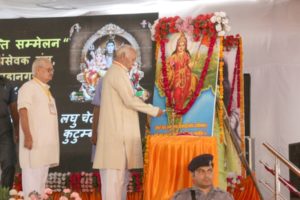 Agra. RSS Sarsanghchalak Dr. Mohan Bhagwat Ji, said that society transformation is need of the hour. This change will be brought in by a holistic and fraternizing behaviour leading to poignancy in the society. That we all belong to same family should form the basis of this metamorphosis. That is how Shiva Ji erected an army of men with honour.
Mohan Bhagwat Ji was addressing a conclave of young couples organized by RSS Brij Prant. He mentioned that we have the most ancient history. We were all sufficient civilization. Civilizations change with time but not culture. This is the responsibility of family to teach a child how to live for others. Western societies are driven by markets. But we are driven by the needs of needy. It has nothing to do with the movement in markets wherein compassion, discipline and ancient wisdom is put aside. Our ancient wisdom should form the basis of our progression. Family bonding and value education to children are utmost virtues to direct our society in right direction. That is how young couples need to contribute towards society. We must be recognized by the name of our country. Our family is the unit of our economic system as a family associates itself with rest of the society. Our diversity and values are non-transformational.
On Kashmir issue, he reminded everyone that efforts of Atal Ji indeed brought in peace in the valley and if the previous governments would have continued with the same, we would have solved Kashmir issue forever. Current government is doing well. Kashmir masses don't want to be associated with Pakistan. We need to arouse nationalistic thoughts in Kashmiri masses.
Along with Sarsanghchalak Ji, Kshetra Sanghchalak DarshanLal Ji Arora and Prant Sanghchalak Jagdish Ji were present on the dias.