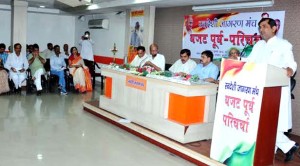 New Delhi : Swadeshi Jagran Manch organised a pre-budget discussion meeting at Deendayal Research Institute on 7th July 2014. Renowned economist Dr. Bharat Jhunjhunwala, Prof. Bhagwati Prakash Sharma, Vice-Chancellor, Pacific University Udaipur, Renowned Journalist Dr. R. Balashankar and Prof. Shivaji Sarkar were the panelist in this discussion. Though the discussion was organised on the subject of forthcoming General Budget 2014-15, panelist apart from discussing the expectations and realities of the budget, discussed at length about the economic mis-management and anti people economic policies of the previous regime. Initiating the discussion, Dr. Ashwani Mahajan expressed concern over slowing growth, deepening poverty and  unemployment, rising current account deficit in balance of payment and declining manufacturing output. He told that the previous Finance Minister fudged the budget figures by hiding various expenditures and overstating revenue receipts and thereby showing lower figure for fiscal deficit.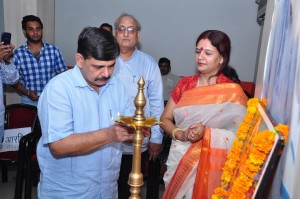 Dr. Bhagwati Prakash Sharma, vice chancellor, said that 47 percent of P. Chidambaram's projected figure of fiscal deficit has already been exhausted in first two months of the current fiscal year. At the end of the year this deficit may go up to much higher level, worsening the inflation further. He stressed at rationalizing the government expenditure. He cautioned the government on the methodology for disinvestment, which the government has been contemplating to raise funds. Citing global examples, he said that retail sale of equity of public sector undertakings including the loss making enterprise would be the best policy of disinvestment.
Dr. Bharat Jhunjhunwala speaking on the issue of inflation said that though inflation is a matter of concern, however if from rising prices of food products, farmers get better value for their produce, then there should not be any objection. We should rather try to control inflation in manufactured products, may it be toiletries, medicines or any other household goods. He opined that if farmer gets remunerative price for his products his condition would improve. He also stressed that resource rich middle class should be made to sacrifice in the interest of poor masses of rural and urban India.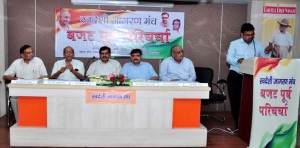 Dr. R. Balashankar while commenting on the conspiracy and game plan of international financial institutions including world bank, blamed these institutions for actually weakening India by imposing anti people conditionalities. Last two decades have witnessed the worst role of these international institutions. In the name of globalisaton, Indian resources have been looted by the MNCs. He said that government should come out of the mindset of FDI and try to embark upon the development model based on domestic resources and Indian genius.
Prof. Shivaji Sarkar criticized the project of bullet train, as stipulated by the government. He opined that it would be better if the government provides better train services to the commoners, instead of embarking on capital intensive projects like this. Instead of providing luxury of bullet train, we need to provide essential services like health, education and others to the common man.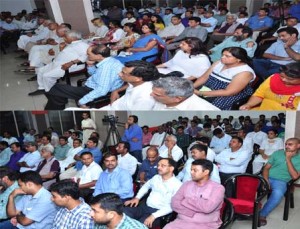 Regional co-convener of Swadeshi Jagran Manch Sh. Deepak Sharma 'Pradeep' said that along with change in the government's economic policies, it is imperative to change the system. Convener of the program CA Vinod Goyal presented the vote of thanks. Discussion meeting was anchored by advocate Rajiv Kumar. Research Scholar of Delhi School of Economics Sh. Rajiv presented a power point presentation. The discussion meeting was attended by nearly 500 participants, including Seh Prant Sanghchalak RSS Delhi Dr. Shyam Sunder Agarwal, Ex Prant Sanghchalak RSS Delhi Sh. Ramesh Prakash, Mayor of East MCD Mrs Meenakshi, Standing Committee Chairperson of East MCD Mrs Usha Shastri, Lok Sabha MP from Meerut Sh. Rajendra Agarwal, All India Co-convener of Swadeshi Jagran Manch Sh. Saroj Mitra, Organiser SJM Delhi and Haryana Sh. Kamaljeet, Sh. Ajay Kumar and number of chartered accountants, professors, industrialists and social activists.