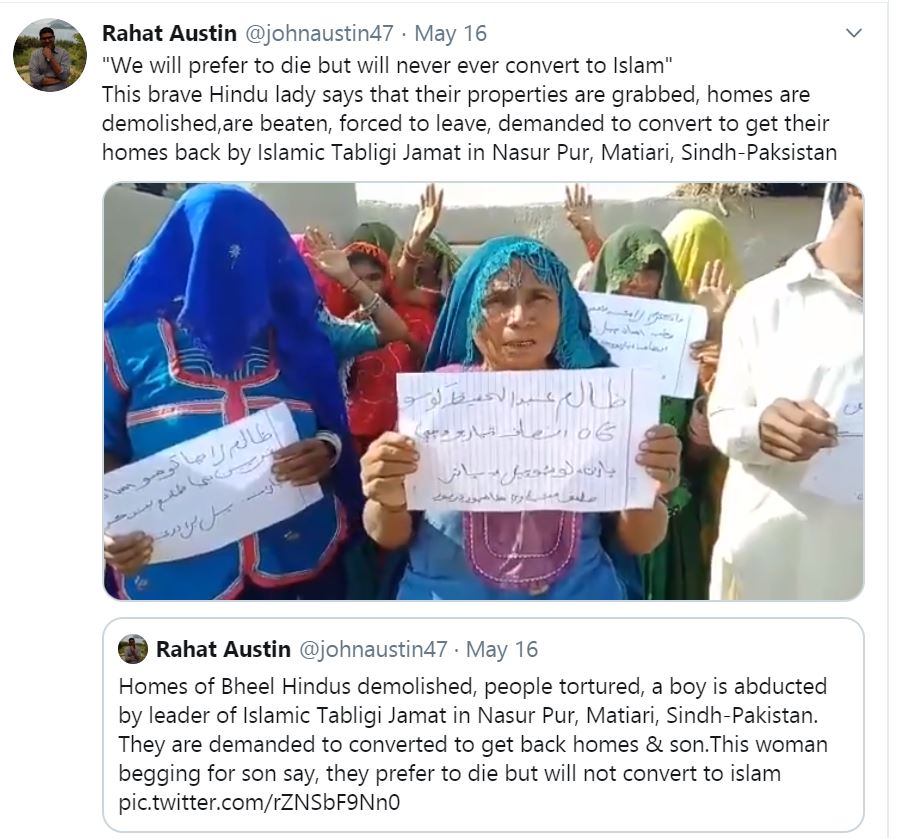 New Delhi. Denial of ration, forceful conversions and other atrocities against Hindus on the rise amid Covid pandemic in Pakistan. It is high time that the Indian government takes up the cause of Hindus in Pakistan who are subjected to unspeakable torture and harassment by Islamic radicals.
In a latest incident, Islamic radicals of the Tablighi Jamaat attacked Hindus of Sindh and demolished their houses and also abducted a Hindu boy for refusing to convert to Islam. A video from Sindh, shared widely on social media, showed Bheel Hindus protesting against the forced conversions.
Hindus in Nasur Pur, Matiar took out a protest. An illiterate woman participating in the demonstration said – "We will prefer to die but will never ever convert to Islam." She said their properties were grabbed and homes demolished and they were beaten, forced to leave and asked to convert if they wanted to get their houses back.
In another video, a woman lying on the ground, was wailing that her son has been abducted by the members of Tablighi Jamaat. The woman was begging the Jamaat to release her son. The persecution of Hindus and Christians has been rampant in Sindh and Punjab provinces of Pakistan.
The Human Rights Commission of Pakistan recently said that over the years "there have been horrific, religiously motivated attacks on the minority communities and any efforts towards eradicating the violence, prejudices, and inequalities have been virtually imperceptible". Both the Hindu and Christian communities in Sindh and Punjab continued to face forced conversions last year.
Recounting the incidents, the commission said in Punjab and Sindh, girls as young as 14 were abducted, forcibly converted and coerced into marriage.
"We will prefer to die but will never ever convert to Islam"
This brave Hindu lady says that their properties are grabbed, homes are demolished,are beaten, forced to leave, demanded to convert to get their homes back by Islamic Tabligi Jamat in Nasur Pur, Matiari, Sindh-Paksistan https://t.co/9B45itGGkM pic.twitter.com/pC5IFZrdA8

— Rahat Austin (@johnaustin47) May 16, 2020