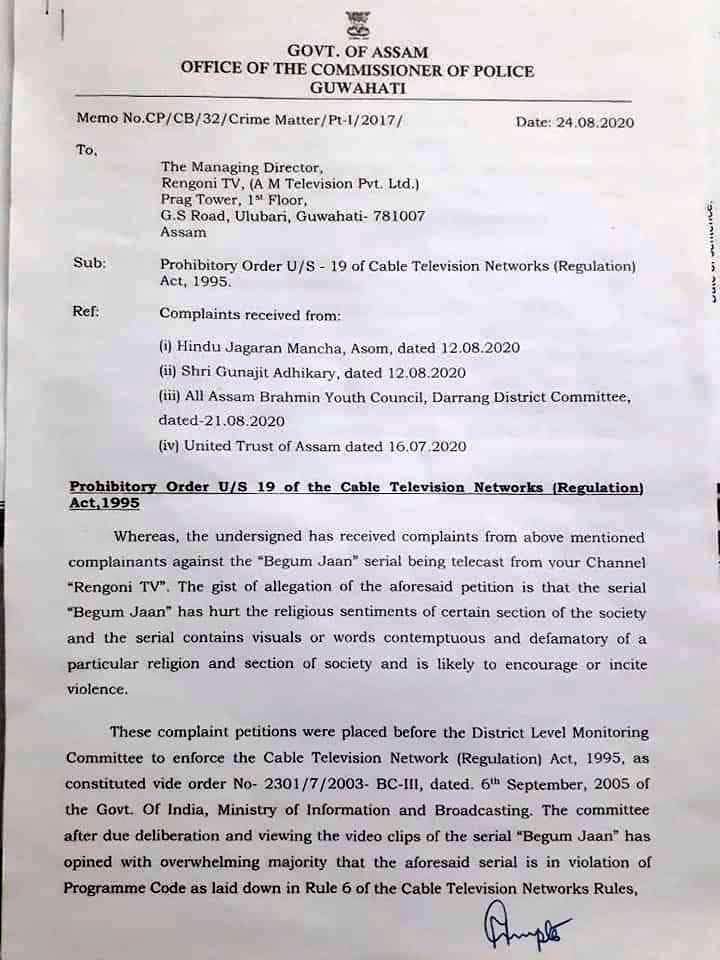 "Begum Jaan" serial being telecast from Regoni TV has allegation that ,it hurts the sentiments of Hindu's and defaming the Hindu deity.Hence this serial has the story based on one Brahmin girl who married to a Muslim boy.Aforesaid story promots the "Love jehad" . Love jehad is highly controversial agenda and it spreads hatred and violence . Some Muslim boys using fake Hindu identity and Hindu name came relationship with Hindu girls .Girls are unintentionally victimised by the community. However it deliberately hurts the Hindu faiths and sanctity . Girls have been misleaded by Muslim boys. Next allegation to this serial is that one episode of this serial is that ,the actress of the serial thrown the "Ganesha" Idol which disappointed the hindu sentiments . As Hindu believes that the God Ganesha protects all of us from any obstacles and situation. So, its again against the Hindu faiths.
So, some Hindu Marcha and activist
1.Hindu jagaran mancha
2. Shri Gunajit Adhikary
3.All Assam Brahmin Youth Council,Darrang district committee
4.United Trust of Assam
Here is all the pages.. https://t.co/uYbDyvGoRx pic.twitter.com/nP1AXQpXOy

— VSK ASSAM (@VSKASSAM) August 26, 2020
Filed complains against the Region TV before the District level monitoring committee . After scrutinisation of the entire serial it seems to be like that it has violated the program code laid down in rule 6 of the cable television network rules 1994. Because of this , "Begum Jaan" telecast is prohibited for 60 days periods.
The verdict of this problem clearly indicates that if Hindu sentiments will be hurted by any it will not be tolerated. Hindu will be not keeped silence.Hindu will fight for its rights.