Kollam, Kerala. The SFI recently placed a flex board featuring a distorted image of the Goddess of Justice at Chavara Baby John Memorial Government College. Additionally, the SFI erected another flex board displaying aggressive statements directed at the RSS. In response to these actions, ABVP has filed a complaint with the Chavara Police against the SFI.
The SFI Chavara Area Committee installed flex boards within the college premises. One of these flex boards carried threatening messages directed towards the RSS, while the other one portrayed the Goddess of Justice in a highly distorted manner. In response, the ABVP has vehemently called for the removal of these derogatory flex boards, as they deeply undermine the sacred concept of Goddess Justice.
ABVP has lodged a formal complaint with the Chavara Police, urging legal action against SFI. Acting on the complaint, police officials promptly visited the college premises and inspected the flex boards in question.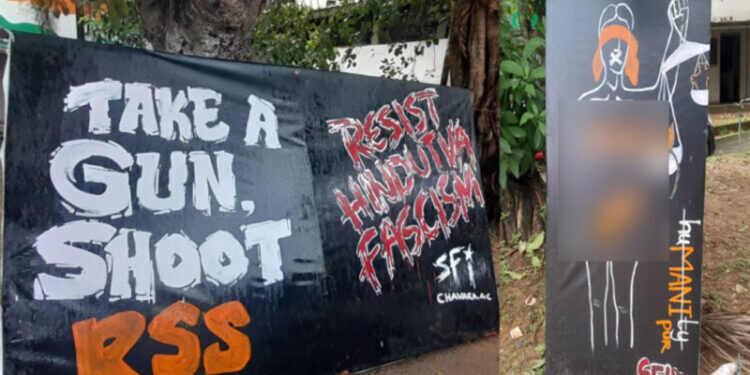 TAKE A GUN, SHOOT RSS!!
What does the student body of CPIM mean by this poster?
Who are you allowing to kill RSS people?
After the Pinarayi government came to power in 2016, 55 people have been killed by political knives in the state. 20 of them are RSS-BJP workers. (55 people were killed between 20 May, 2016 and 16 February, 2022)
This is stated in the figures of the Home Department itself, and the figures of the Crime Records Bureau also make this clear.
The reality is that in most of the cases of murders, CPM workers and Popular Front militants were on the opposite side. Kannur, the chief minister's home district, has seen the highest number of murders in the last six years. 15 people are killed here. Seven of them are BJP workers.
Imagine the outrage if the poster would have said the same for Ms and cadres of Ms league.