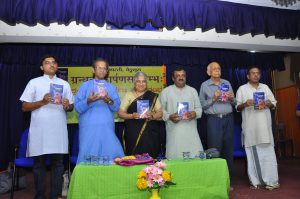 Bengaluru. Three Samskrita books were released in a program organised at Aksharam, Samskrita Bharati karyalaya, Bengaluru on Saturday, 20 April 2019.
Smt. Sudha Murthy of the Infosys foundation released the books. Addressing the audience she urged that introducing Kalidasa and Bhasa into academics fully is the need of the hour. We are failing in teaching our future generation on the importance of literature and we should practice by gifting books of Samskrita and Kannada to ensure the language and the literature is imbibed by the next generation she said.
Shreenivasa Varakhedi, VC of the Kalidasa Samskrita University, Nagpur presided over the event.
Mahabrahmana is the translation work of Shatavadhani Dr. R Ganesh of the novel in Kannada written by Devudu Narasimha Shastry. Indulekha written by Dr. Janardhan Hegde, Granthila written by Dr. Janardhan Hegde and Shyamala were released. Dr. Janardhan Hegde is the editor of the Samskrita magazine Sambhashana Sandesh.
The whole program was conducted in Samskrita.