Vijayadashami Lekh-Mala
Historic Dialogue between Doctor ji and Gandhiji
Narender Sehgal
Dr. Hedgewar, after his release from second term of imprisonment, resumed his responsibility as Sarsanghchalak of RSS and started working day and night to make Sangh work Nation-wide. Physical, mental and intellectual qualities of Dr. Hedgewar started manifesting in Swayamsevaks. He was hard working by nature, had a strong will power and was highly intelligent. He had taken up his long journey of selfless service willingly, ignoring his falling health. He had full focus on Hindu Rashtra and on organising and uniting Hindus as the main task of RSS.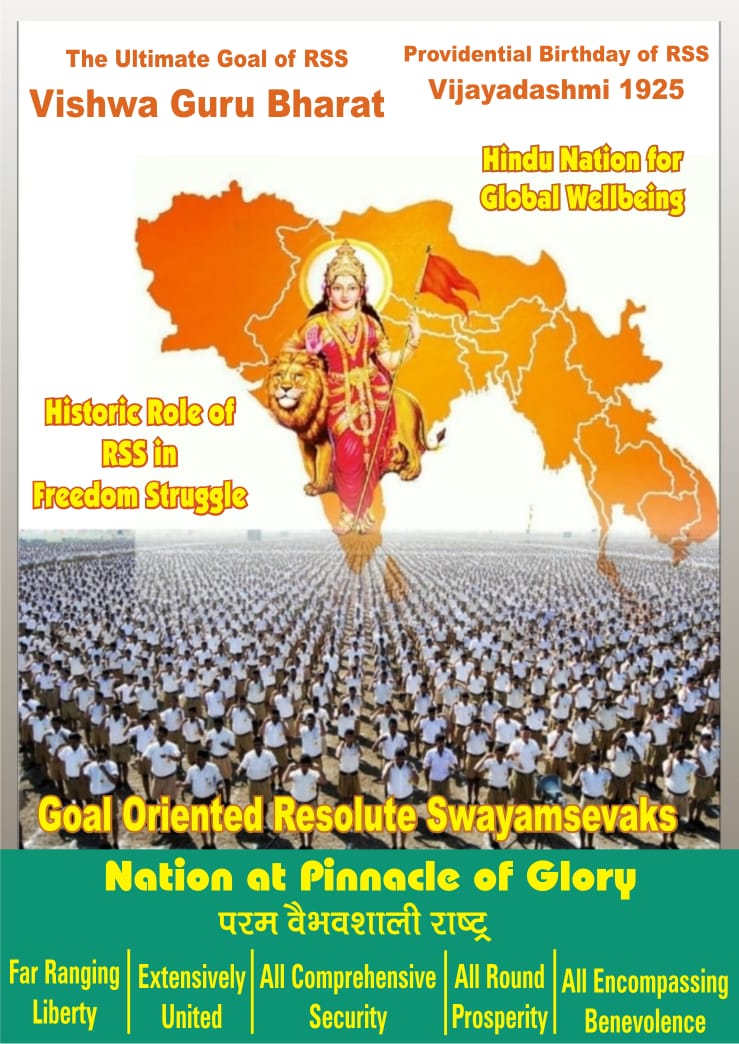 Inspiring Ascetic Life of Dr. Hedgewar helped in expansion of Sangh work
Too much hard work had affected his health badly. His daily routine comprised tough schedule – of  not taking any food till 2 p.m, series of meetings till 2 am  in night, meeting people particularly listening patiently to criticism related to RSS without being provoked. He would motivate young Swayamsevaks to work as Pracharaks. This was his routine day to day life. Many small parties and organisations committed to Hindu welfare merged with Sangh. These small groups joined RSS in such a way as if small rivulets and streams would merge with mighty and sacred Ganga. Doctor ji was successful in impressing upon National leaders like Madan Mohan Malviya, Veer Savarkar, Subash Chander Bose, Dr. Ambedkar and Mahatma Gandhi, about RSS' objectives and its need.
Gandhiji's visit to the winter camp of Sangh at Wardha in 1934 had become a topic of discussion during those days. Narayan Hari Palkar, a student day's  friend and close observer of the life of Dr. Hedgewar,  has mentioned, in his book 'Dr. Hedgewar Charitr' published in 1960, about Gandhi ji's meeting with Doctor ji. According to him, Swayamsevaks would bring their beddings, uniform, dresses in Sangh camp and meet their expenses through their own resources. They would stay together for 3-4 days full of enthusiasm and fitness in total military-like discipline. All expenses of stay and food were met by Swayamsevaks themselves. Gandhiji's Satyagraha Ashram was very close to the winter camp of RSS. During every morning walk, Gandhiji would see Swayamsevaks busy in managing affairs of their camp in a disciplined way. Gandhiji became very curious about the camp. He asked about which organisation they belonged to or about the convention that was being held.
On 22nd December, camp was inaugurated with attractive displays of exercise and playing of musical bands (Ghosh). Gandhiji saw the whole proceedings from his bungalow where he was staying. He expressed his desire to see the camp. He sent his associate Mahadev Bhai to Sanghchalak (Head of the Camp) of the camp expressing his desire to see the camp. Camp Sanghchalak Appaji Joshi went to Gandhiji and told him that he may find any convenient time to visit the camp and inform them, so that he could be welcomed. Gandhiji told that he would visit the camp the next day at 6 in morning and would stay there for one and a half hours.
Mahatma Gandhi ji in RSS Camp
Next day Gandhiji reached the camp at 6 o' clock in the morning. He was ceremoniously welcomed. Gandhiji was accompanied by Mahadev Bhai Desai, Mira Ben and some other Ashram inmates. After watching an impressive performance by Swayamsevaks, Gandhiji told Appaji Joshi that he is extremely happy and that he has never seen such a performance before throughout the country. He was surprised that food for 1500 Swayamsevaks could be cooked in one hour without any problem, that too at the contribution of one rupee each and some grains. Any shortfall is met by Swayamsevaks themselves.
After this he went to see the dispensary and lodging arrangements of Swayamsevaks. He came to know that several farmers, labourers and people of different castes of Brahmin, Mahar, Maratha etc. had come as Swayamsevaks. All were living together like family members and had taken food in the same queue. To satisfy his curiosity, he asked Swayamsevaks some questions about any caste-based discrimination. They replied that while they were in Sangh Shakha or camp, they would forget their caste identity, so nobody knew about the caste of fellow Swayamsevaks. They further added that they were all Hindus and were therefore brothers.
Mahatma Gandhi asked Appaji Joshi about how they were able to shed caste feelings. Gandhji told Appaji Joshi that there were several organisations run by them who are striving hard but are not able to remove the caste feelings and untouchability. He was surprised how Sangh had been able to achieve this difficult task. Appaji Joshi replied that we all Hindus are brothers and there was no question of any feeling of discrimination. Once this feeling was aroused, all discrimination ends. This feeling could not be created by words or speeches but by personal experiences and leading by an example. Whole credit for this would go to Dr. Hedgewar. At that moment a bugle sounded, signalling Flag hoisting ceremony. Appaji and Gandhiji saluted the Bhagwa Dhawaj (saffron flag).
An important meeting between Gandhiji and Dr. Hedgewar
After knowing about the working and ideology of RSS, Gandhiji expressed his desire to meet Dr. Hedgewar. Dr. Hedgewar was scheduled to visit camp the next day. Doctor ji along with Appaji Joshi and Bhopatker went to meet Gandhiji in his Ashram. Doctor ji and Gandhiji exchanged views for one hour.
Some important points discussed were as under –
Gandhiji asked Dr. Hedgewar that he had been actively associated with so much popular Congress party, but why did not he start Sangh under Congress banner? Why did he start a volunteer force independently? Doctor ji replied that he in fact wanted to start Sangh under Congress party along with Dr. Pranjpe but their attempts failed. Gandhiji curiously asked could it not be done due to lack of finance? Doctor ji replied that money was not the issue, the issue was unconditional devotion. Congress had been formed for a political cause. Programmes of Congress were designed to achieve a political cause only. It needs volunteers to do only the ground work to arrange the stage, pandal and chairs. There is no program for their physical and mental development and developing sense of selfless duty towards the Nation. Only RSS which had been working selflessly with a visionary outlook could produce able leadership to lead the masses. Ground level volunteers were moulded in Sangh Shakhas, into leaders by developing their intellectual and physical capabilities.
Dr. Hedgewar continued, "Our volunteers are not paid workers whose only job is to arrange chairs, stage etc mostly expecting some favour later on or for pursuing a political career. Our volunteers are trained to stay fit physically and mentally. Our volunteers are full of zeal working selflessly for the overall development of the country. This cannot become possible in Congress."
Gandhiji asked about Doctor ji's concept of Swayamsevak. He explained – "A person with leadership qualities committed to sacrifice everything for all round progress of the Nation, is Swayamsevak. The task of Sangh is to develop such leadership of quality as Swayamsevaks. Having known this fact, to respect and love each other. There is no question of discrimination. The secret of such phenomenal growth without any money and resources lies only in this fact."
Gandhiji expressed his happiness and told Dr. Hedgewar that the welfare of the Nation lies in how RSS is achieving its aims. Gandhiji had some doubts about the financial resources of Sangh. He asked whether Sangh was receiving donations and funds from rich people like Jamna Lal Bajaj. Doctor ji replied that there was no such thing. They managed their expenses from their own contribution i.e. money offered by Swayamsevaks from their own sources as 'Guru Dakshina' to Bhagwa Dhwaj. He further explained if society felt that any work was important, Sangh will accept financial help from the society. People would give money with an open heart. But in Sangh working, Sangh was self-sufficient in financial matters.
Gandhi ji then wanted to know that since he must have been spending a lot of time for Sangh activities then how he found time for his medical practice? When Doctor ji told him that he was not doing any medical practice, Gandhi ji asked how he was supporting his family? To which Doctor ji replied that he had not married. Gandhi ji was amazed by Doctor ji's reply. While taking leave of Gandhi ji, Dr. Hedgewar told him that he had taken a lot of his time and that with his blessings Sangh would achieve its goals. Gandhi ji stood up and accompanied Doctor ji up to the gate and after wishing goodbye he told Doctor ji that he would be successful in achieving his goal given his strong character and firm faith in his mission.
Gandhi ji's First Visit to Sangh Shakha
It is worth mentioning that Gandhi ji expressed his desire to meet second sarsanghchalak Shri Guruji Golwalkar in September 1947. Gandhiji was aware of the growing influence of RSS. As soon as Guruji càme to know of Gandhiji he went to Delhi and met him in Birla Bhavan. Gandhiji expressed his desire to address Swayamsevaks in any programme.
On 16th September 1947, Gandhiji addressed a gathering of 500 Swayamsevaks in a ground situated in Bhangi Colony near Birla Bhavan. In his address he openly praised the working of Sangh and its aims. Next day, a national daily, 'The Hindu' reported the news "Years ago when Dr. Hedgewar was alive, Gandhiji had seen a training camp of RSS. He was extremely happy to see their discipline, total simplicity and having no place for untouchability. Sangh had since flourished. Gandhiji expressed his confidence that any organisation which is inspired by the spirit of service and sacrifice is bound to grow day by day."
……………….to be continued
(Writer is a Senior Journalist and Columnist)