Vijayadashami Lekh-Mala
Causes of Our Long Slavery : Deep Analysis by Dr. Hedgewar
Narender Sehgal
Dr. Hedgewar would leave no chance to study every movement deeply for freedom of the country. Leader of an extremist group of Congress had formed a Rifle Association in which he would train the youth in shooting and impart training to face the enemy. Dr. Hedgewar along with Dr. Munje spent several days in jungle to receive training. He otherwise had training in rifle shooting and assembling explosive materials while he was in Kolkata.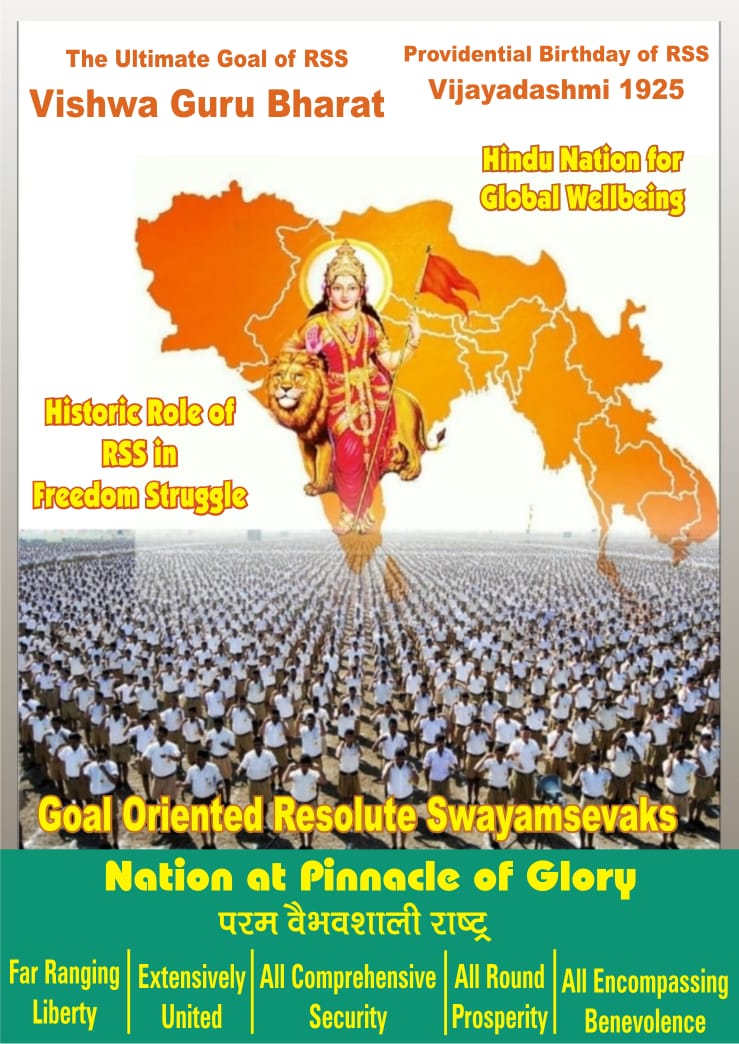 Nationalist Journalist – Dr. Hedgewar
There was a time when every leader of Congress was confused about deciding the course of the freedom movement, keeping in view the target of full independence. At that time there was no Bhartiya Sanskriti or a thing like Nationalism in Indian National Congress. In this pro-British atmosphere, Dr. Hedgewar openly challenged Britishers by forming Nagpur National Union which stood for complete freedom of India. In order to reach every nook and corner, Doctor ji with his aim of complete freedom formed "Swatentreya Prakashan Mandal" along with his fellow freedom fighters. It was decided to start a daily newspaper – "Swatentreya". Facing different odds and pressure from an alien government, it was not an easy task to publish a newspaper raising society's voice for achieving full freedom.
An office of "Swatantreya" was opened near Chitnis Park in Nagpur. Newspaper was started in the beginning of 1924 under the editorship of Sh. Vishaw Nath Kelkar. Dr. Hedgewar was himself among the directors of the publication board. In fact, he was the main architect of the project. By working with passion, he introduced himself as a powerful and thought-provoking writer. While doing different jobs and multi-tasking he did not take even a single Rupee for his hard work. Due to the paucity of funds and resources, newspaper could not be published for more than a year. But during this short period of one year, he moulded writers, literary persons and journalists to partner his future planning by befriending them.
Separatism started taking deep roots due to anti Hindutva and appeasement policies of Congress. During this period fanatic Muslims demanded separate independent Muslim state comprising of North West Frontier Province, Sindh and Punjab. In these changing circumstances, majority of Nationalist Hindu leaders got convinced that if they wanted to save Bharat and Bhartiyata, there is no option but to form a strong organised Hindu society. Most of the Hindu leaders of Congress were privately in agreement with Dr. Hedgewar on this subject. After convincing all that in India, Hindutva means Nationalism, he put some different questions for discussion, which nobody had thought about previously.
Why We Lost Our Independence?
Everyone agrees that our country should be independent but how did we lose our independence? Why did Vishwaguru fall into disgrace? How a few marauding foreign invaders were successful in looting, massacring and in forceful conversions in this great and huge Nation? How our powerful armies consisting of valiant warriors and powerful kings become helpless in the face of attacks from invaders like Turks, Pathan and Mughals and traders like Britishers? Why could we not fight back when our books of knowledge, places of worship which guided our moral and spiritual values, Universities and knowledge centres were reduced to ashes in front of our eyes? Even though some of our valiant warriors continued resisting even by sacrificing their lives, we could not fight back as organised people under one banner. Dr. Hedgewar raised these questions before our Nationalist leaders for the first time. After listening to the replies of above questions from all leaders, Dr. Hedgewar placed his brief but deep analysis before them. It is worth mentioning that he had studied the working style and their ability to fix and achieve goals by working actively and partnering in the activities of different organisations, political parties, religious sects, revolutionary groups and Akhara etc. The gist of his deep analysis that was put before all the leaders, was that only an organised, powerful and resurgent Hindu society can guarantee the security and sustaining of our freedom.
In the past, whenever the core society of India, the Hindus, got unorganised and powerless, India got defeated. But whenever Hindus unitedly fought the invaders, the invaders not only got defeated but were assimilated in our mainstream culture. According to Dr. Hedgewar, if disintegrative character and thought prevailed and if we did not stand unitedly, our hard-earned independence whenever we get, would be lost again within no time. So, it is necessary to have a driving force of solid National consciousness behind our fight for independence.
Dr. Hedgewar was the only leader fighting for independence of India who closely studied organisational structure and working of different social, religious and revolutionary groups. Dr. Hedgewar was in contact with Mahatma Gandhi, Lokmanya Tilak, Madan Mohan Malviya, Bhai Parmanand, Dr. Munje, Netaji Subash Bose, Veer Savarkar, Dr. Shyama Prasad Mukherjee and Bhagat Singh. Dr. Hedgewar had closely worked in Congress and seen its internal working. He had clearly observed that the freedom movement under Indian National Congress was getting hijacked by anti-Hindutva forces, as per the plans of Britishers. Dr. Hedgewar also observed that appeasement policy towards a particular section of community is encouraging separatism and an environment is being built that will lead to the division of the country.
Every Bharatiya has One Nationality
Dr. Hedgewar was not against Muslims. On the contrary many patriotic Muslims were his close friends. Dr. Hedgewar was only concerned about growing fanaticism among a section of Muslim community directed against Hindutva and wanted the fact to be brought to the notice of everyone. Dr. Hedgewar clearly told that after foreign invaders established their rule by massacring and forcefully converting the core society. Most of the Hindus resisted strongly, even sacrificed their lives but did not convert. But those who succumbed to the barbarians not only got converted but joined the invaders against their own people in looting, plundering temples and other religious places. The fact is that those converted people treated short term religious slavery as permanent one after rejecting their Sanatan culture. They adopted an invaders culture of loot and plunder. These children of Bharat Mata abandoned their own mother and adopted someone's mother.
According to Dr. Hedgewar, the present-day Muslims had only changed their way of worship. By changing the way of worshiping God, did not mean that you could change your ancestors and Sanatan culture. We Hindus and Muslims had the same ancestors, same culture, same glorious history and great legacy worth being proud of. Thus, we all have one nationality.
The unknown Soldier of our war of Independence, Dr. Hedgewar concluded after his deep analysis, that our nation fell to disgrace not because of Muslims or Britishers but because of the fact that national feelings of an individual towards the concept of Nationhood were weakened. This state of unorganised directionless individuals and lack of national character are the reasons for our present desperate position who once were a powerful nation whose glory reached across the seven seas. Result of Dr. Hedgewar' s deep analysis is Rashtriya Swayamsevak Sangh.
…………………to be continued
(Writer is a senior journalist and columnist)