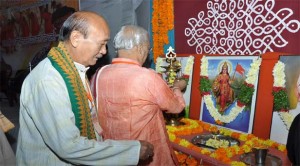 Ghatakesar. Vanavasi Kalyan Ashram southeren state secretary Sri KRamachandrayya informed that a acceptable proposal has been made for the citizens affected due to Polavaram Project .
At the national level meeting of the Ashram, at Rashtriya Vidya Kendra in Annojiguda near Ghatakesar there were discussions related to Vanvasis. In three days meet, about 700 workers belonging to different regions of the country  participated. The discussions are centered on living conditions of the Vanvasis and ways and means to change their living conditions.
The President Sri Jagev Rao Urav, the vice presidents Sri Krishna Prasad Singh, Jaleswar Brahma,All India Organising secretary Sri somaya Jululu were present during   start up program of the meet.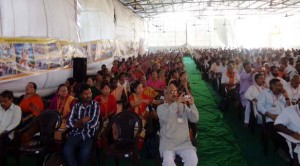 At the meet Sri K Ramachandrayya explained that at Andhra Pradesh alone has the population 0f approximate 80 lakhs of  Vanvasis. The activities of vanavasi Kalyan Ashram enabled 300 Vanvasis living in Srisailam forest to become teachers and  40 Vanvasis  from paderu region joined in police department.
Amicable solution is needed for the affected vanvasis of Polavaram Project,To provide benefit of  7 districts lakhs of acres of land of Vanvasis  will be flooded. All Tribal villages in catchment area need to be relocated to different places. Vanavasi Kalyan Ashram stressed on the need of prioritising the plan of replacement to be implemented before beginning of the Project. The affected Vanvasis of polavaram catchment area need to be identified immediately and respective compensation to be provided first before any step is taken to start the project.