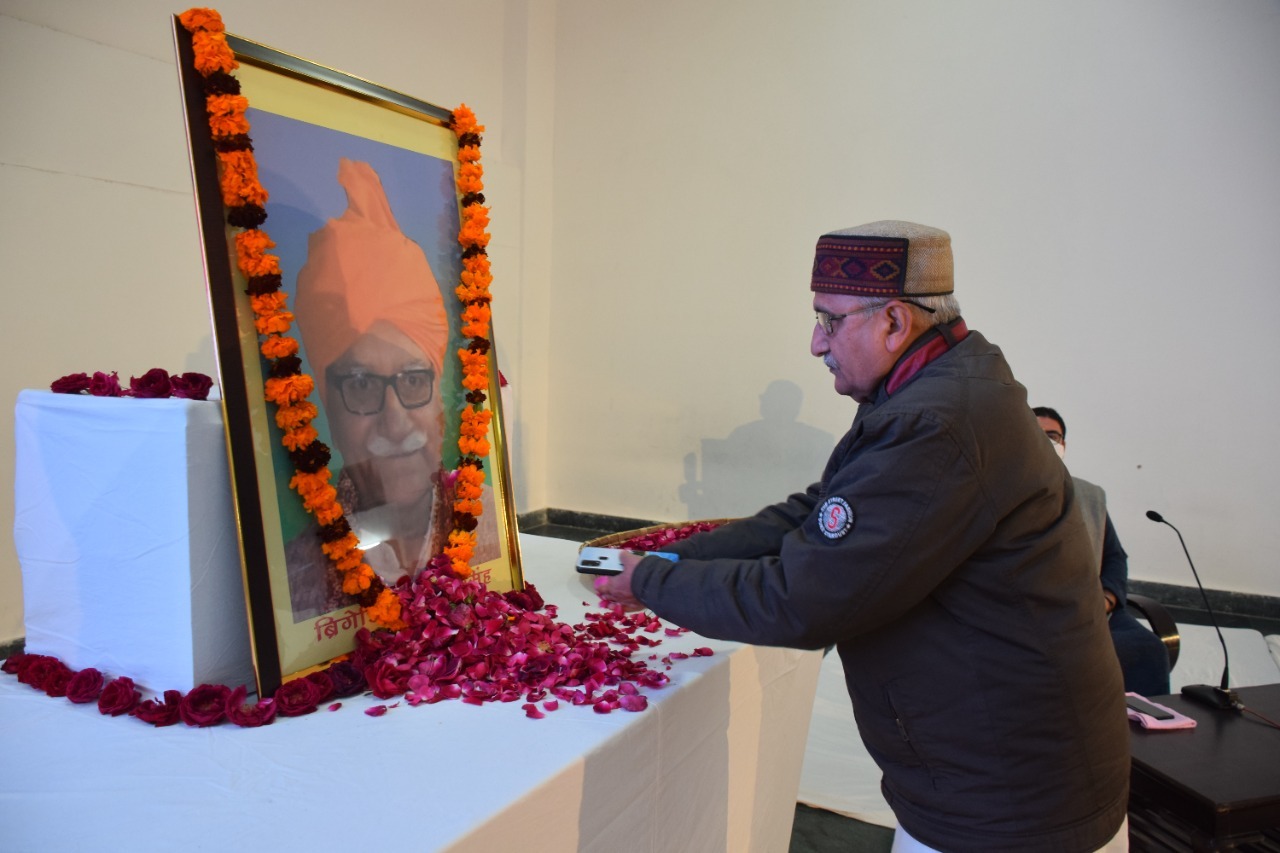 Jammu. RSS and various social organizations on Saturday paid tributes to Prant Sanghchalak of Jammu and Kashmir Brigadier Suchet Singh. In view of COVID SOPs, limited numbers of people were present in the condolence meeting which was organized on the tenth day of Brigadier Suchet Singh's death by RSS. Brigadier Suchet Singh died on January 13.
A 10-minute documentary on the biography of Brigadier Suchet Singh was also screened on the occasion.
Among those who paid homage to Brigadier Suchet Singh was RSS Akhil Bharatiya Sah Sampark Pramukh Ramesh Pappa, North Zone Vayavstha Pramukh Purushettam Dadhichi, Sah Prant Sanghachalak Dr. Gautam Mangi, Prant Karyavah Dr. Vikrant, Vishwa Hindu Parishad State President Advocate Leela Karan Sharma, Union Minister of State for PMO Dr Jitendra Singh, State BJP President Ravindra Raina, Retired Brigadier Rakesh Sharma, Mahant Rameshwar Das, Gangadhar Shastri, Vice Chancellor of SKAUST University Dr. JP Sharma, Brigadier Suchet Singh ji's elder daughter Shalini, other members of her family, Prant Pracharak Rupesh Kumar and Sah Prant Pracharak Mukesh Kumar, etc. were present on the occasion.
Ramesh Pappa while paying tributes said that Brigadier Suchet Singh came in contact with the Sangh after retiring from the army. Brigadier Suchet Singh believed that the work which he had done earlier in the army, can be repeated in the Sangh because he always felt that Sangh is doing the same for the nation as what the Army is doing.
Ramesh Pappa said that Brigadier Suchet Singh was an ideal for everyone and will always take inspiration from his life and his work will also keep inspiring.
Expressing his sentiments, Uttar Kshetra Karyavah Vijay Ji said that Brigadier Suchet Singh continued to move towards his goal like an ascetic throughout his life. Brigadier Suchet Singh inspired the society and despite being a retired army man, his work in the organization will always remain inspirational.
Purushottam Dadhichi in his address said that he was a born volunteer in true sense. He came to the Sangh after retiring from the army, but if his biography is read, then his activities have always been like volunteers.
Advocate Leela Karan Sharma while paying tribute to Brigadier Suchet Singh recalled the moments spent with him during the Shri Amarnath Land movement. He said that in the year 2008, through Land Row, he met Brigadier Suchet Singh, after that he became the Prant Sanghchalak but the meeting continued. He also remembered the support and inspiration by Brigadier Suchet Singh for him to lead the movement of Shri Amarnath Sangharsh Samiti.
While paying homage, Dr. Gautam Mengi said that today he is being remembered as a virtuous soul.
In 2006, he came in contact with Brigadier Suchet Singh on the occasion of Shri Guruji's birth centenary.
He said that the spirit of service in him was so much that once in his military life he had to give up his promotion due to ill health of his mother.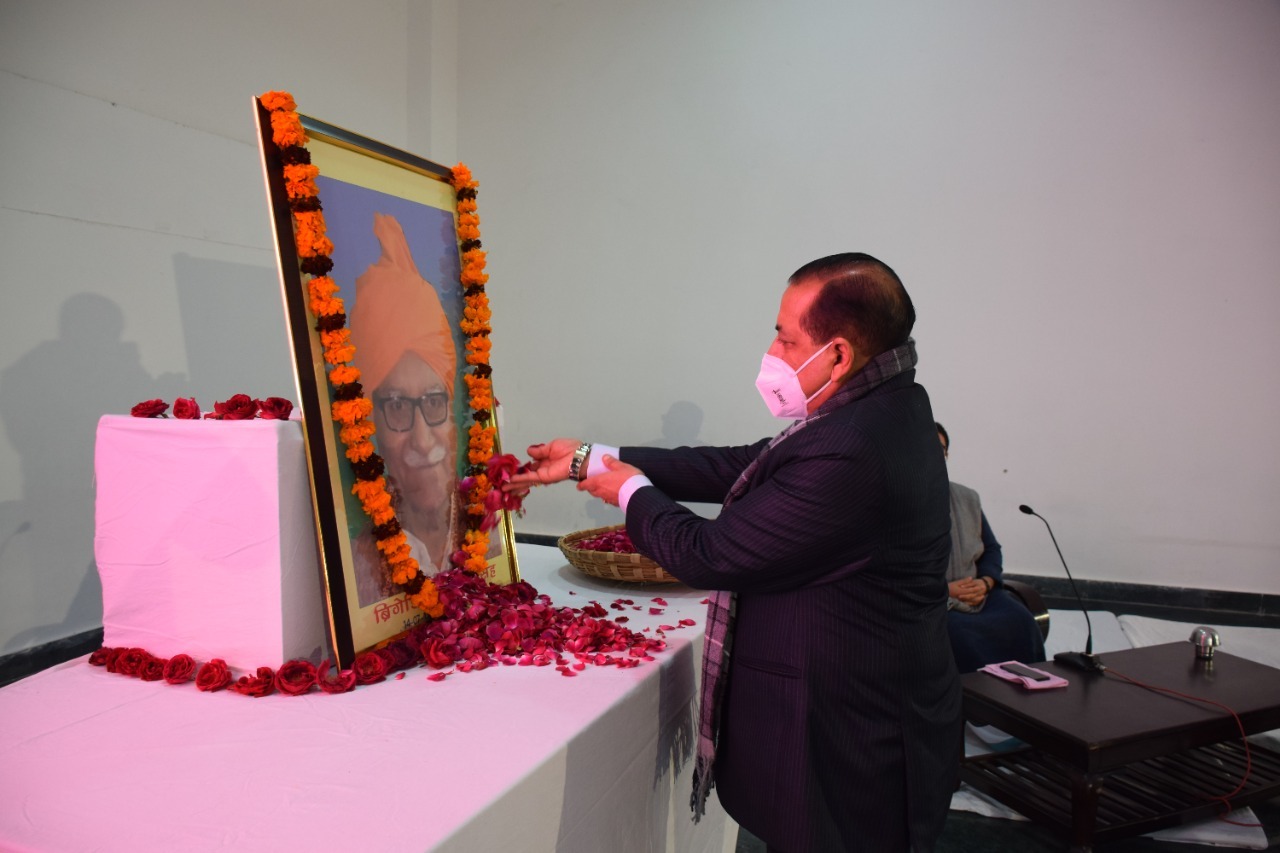 Union Minister Dr. Jitendra Singh while paying tribute said that in today's fast paced life and in times of chaos and in the midst of all this, if still the society is alive, only because of the people like Brigadier Suchet Singh.
Got an opportunity to meet Brigadier Suchet Singh closely, also worked with him. Even during the Amarnath Land movement, it can be said about Brigadier that whatever responsibility he held, in the army or in the Sangh, he followed the highest standards of decorum.
By never compromising with those parameters, he fulfilled every responsibility, said Singh. Giving an example in this regard, he said that when BJP had lost both the Lok Sabha seats of Jammu division after the Amarnath land movement, there was a discussion in Delhi that Jammu should now be represented in the Rajya Sabha.
Dr. Singh said that when he found the correct name of Brigadier Suchet Singh, he proposed it and when Brigadier Suchet Singh got this information, he immediately called me and said that he is engaged in the work of the Sangh and the organization, it will send a wrong message and has no such desire.
"It is not so easy to follow the conduct which he continued to follow and the standards which he established, if this effort is to be followed in the mind, then I think that it too will be a tribute to a Brigadier," said Singh.
State BJP President Ravindra Raina, said that the opportunity to work with him for a long time came during the Amarnath land movement. He was a disciplined and brave soldier. In Sangh also he worked like a soldier. He always guided society towards the country and religion.
Retired Brigadier Rakesh Sharma, while paying tribute, threw light on the military life of Brigadier Suchet Singh and his role in the 1971 Indo-Pakistan War in the Poonch Sector.
Mahant Rameshwar Das said that his personality was courageous and fearless and he always remained engaged in the service of the society.
In the end, Shalini, daughter of Brigadier Suchet Singh, expressed gratitude to the entire society for expressing her condolences and said that her mother Sarita Singh always supported her father fully in the Sangh work. Brigadier Suchet Singh never took pride in his position, he used to say that the day there is no work means no life, she reminded.