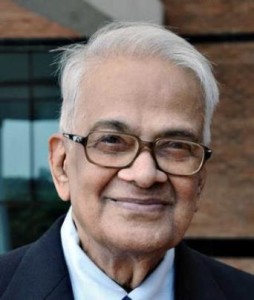 Manipal (Karnataka). Veteran journalist and former Prasar Bharati chairman M.V. Kamath expired on Thursday morning in Manipal, Udupi district Karnataka.
The 93-year-old editor, was a Padma Bhushan awardee and the Honorary Director of Manipal School of Communication. He also worked as the editor of the Illustrated Weekly.
Dattatreya Hosabale, RSS Sahasarakaryavah expressed deep condolences on demise of MV Kamath. "Sri MV Kamath was a great writer and a fierce nationalist. He contested secularist world both during worst days and the best time of our movement May his soul rest in peace" said Dattatreya Hosabale in his brief condolence message.
Madhav Vittal Kamath was a senior journalist, was the former chairman of Prasar Bharati. He worked as the editor of 'The Sunday Times (India)' for two years during 1967-69 and it's Washington Correspondent of 'Times of India' during 1969-78. He also served as editor of 'The Illustrated Weekly of India'. He was the Honorary Director of Manipal Institute of Communication, when he died. He had also authored nearly 40 books on various topics. He was awarded,Padma Bhushan award in 2004.
Kamath was a member of the Executive Committee of MAHE (Deemed University) and at the same time the Honorary President and Honorary Director of the Manipal Institute of Communication. Since many years as a close friend and follower of Manipal Brahmathonsea Madhava Pai, Kamath was the backbone of the T.M.A. Pai foundation. Born in 1921 at Udupi, Kamath completed his B.Sc. in Physics and Chemistry in 1941. For the first five years he worked in the field of Chemistry. He passed away peacefully on 9th October, 2014.
MV Kamath had authored nearly 40 books. Some of his major book works:
On Media, Politics and Literature (2009), Prabal Publishing, Bangalore.
Narendra Modi – The Architect of a Modern State (2009) Co-author Kalindi Randeri, Rupa & Co., New Delhi.
Gandhi – A Spiritual Journey (2007), Indus Source Books, Mumbai.
Reporter at Large (2002), Bharatiya Vidya Bhavan, Mumbai.
The Pursuit of Excellence (1982), Rupa & Co., New Delhi.