Veteran RSS Pracharak Prakash Kamath passed away
Bengaluru. Veteren RSS pracharak Prakash Kamath breathed his last at Belagavi. He was 70. He was been treated at a private hospital at Belagavi for he succumbed to paralysis stroke recently. He is survived by his two brothers and a sister.
Due to health troubles, he was relieved from his responsibilities of Vanavasi Kalyan ashram three years ago. After that he was staying in Kumta, Uttar Kannada. He had moved to Belagavi for treatment recently.
Kamath was behind the starting of Vanavasi Kalyan ashram activities which focussed on working with the tribals in the state. He worked under the guidance of Late Ajith Kumar.
Born in Sringeri, Karnataka on 10th April 1949, Prakash Kamath won gold medal for his Bachelor of Engineering in Electrical engineering from the Regional Engineering College, Surathkal.
He had worked in various capacities for the development of Vanavasis including serving for 10 years in North Eastern part of Bharat. He has devoted his entire life to the society and the upliftment of Vanavasis.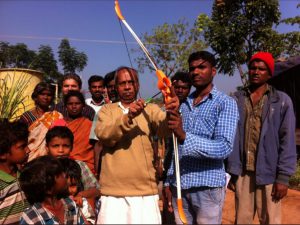 He was stationed at Patna and had held the Akhila Bharatiya responsibility of Gram Vikas┬аa project of Vanavasi Kalyan Ashram which focussed on welfare of Vanavasis at village level. Kamath ji was a firm believer of the fact that the task of upliftment of Vanavasis was to be done by karyakartas with whole heartedness and with a continuous, long term dedication.

Incidentally it happens to be the death anniversary of Balasaheb Deshpande who was the founder of Akhila Bharatiya Vanavasi Kalyan Ashram.

V Nagaraj, Kshetra Sanghachalak of Dakshina Madhya Kshetra, RSS and Sripada, Kshetra Sanghatan Karyadarshi (Organising secratary) of Dakshina Madhya Kshetra, Vanavasi Kalyan ashram have issued condolences for the departed soul. While V Nagaraj has compared the dedication of life of Prakash Kamath as pure gold, Sripada has said that Kamath ji always wished the volunteers work for the development and upliftment of vanavasis in a dedicated and whole hearted way till the ultimate goal of Vanavasis brought to mainstream is reached.

/?php if(of_get_option('disable_share') != true) { ?> /?php echo mom_single_share(); ?> /?php } ?>
About The Author
Related posts
Leave a Comment