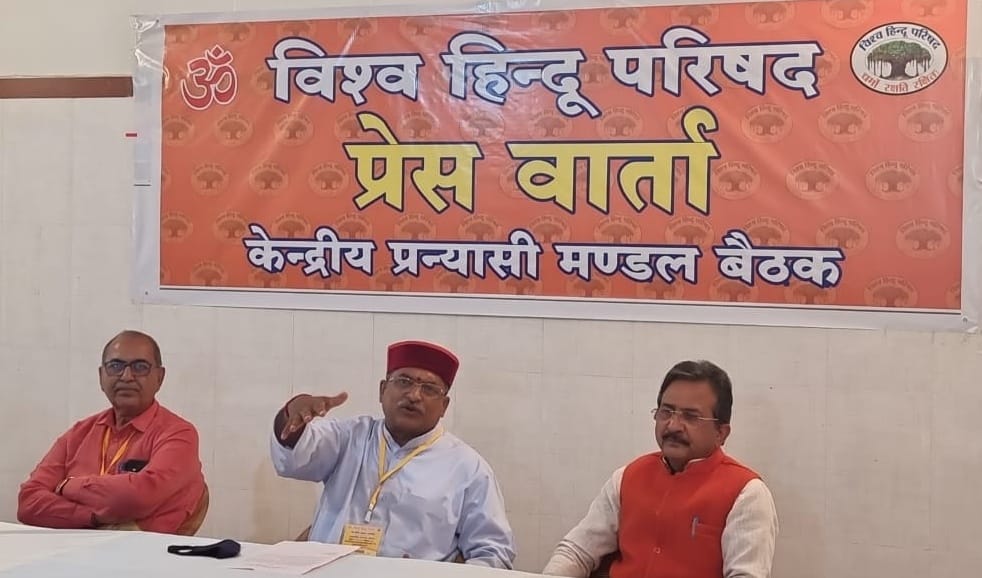 Junagadh. Vishva Hindu Parishad has now geared up to stop the various problems being faced by the Hindu society around the world, including relentless attacks on its social, Dharmic and cultural Maanbindus (points of honour and sentiment), and re-establish its spirituo-cultural individuality and personality, enhance its Rishi-Krishi Kulaachaar (culture) of refinement, grace and dignity, further its holistic, altruistic and syncretic glory, make it more empowered, self-reliant and Dharmanisth (devout; pious; lover of cosmic laws and humanism)! For this, a 3-day meeting of VHP's Central Board of Trustees and Governing Council will start from December 24, 2021 at Junagadh, Gujarat. Giving information about the agenda of the meeting, Central Secretary General of VHP, Milind Parande said today that the deep contemplation sessions will cover subjects such as protection of environment and ecology, liberation of temples from government control, strict central law against horizontal religious conversions, boosting up cultivation of Sanskars in society to prevent devaluation of humanity.
In 2024 CE, Vishva Hindu Parishad shall be completing 60 years of its establishment. There will also be brainstorming on the plan of expansion of the organization by its Shashtipurti (60th) year.
VHP President Padmashri Dr. R.N. Singh (Ortho), Working President Senior Advocate Alok Kumar, Central office-bearers from across the country will participate in this important meeting scheduled to be held at the grand courtyard of Shri Swaminarayan Golden Temple located on Jawahar Road, Utara Vibhag of Junagadh. Ready with facts and figures about the work of the organization going on in various countries outside Bharat, their office-bearers are also reaching Junagadh.
He also informed that in the meeting, the representatives of the organization would seriously brainstorm on the activities of the organization going on in various fields, the challenges being faced by the society and their solutions. In this, there will also be a discussion about the continuing attacks on the minority Hindu, Sikh community in Pakistan and Bangladesh.