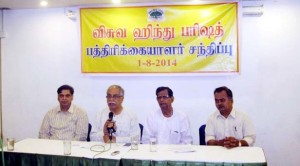 Chennai. Sri Ashok Chowgule, International Working President (External) pronounced the Celebrations of Swarna Jayanthi Mahotsav Committee (Golden Jubilee Celebrations) in a press meet held in Chennai.
Explaining in detail on the formation and seva activities carried out by VHP, Shri Ashok Chowgule announced that a year-long Golden Jubilee Celebrations will be carried on all over the country commencing from Krishna Janmaashtami Day (August 17, 2014).
Five Major Hindu Convention of Sants, Sadhus will be held at Mumbai, Delhi, Calcutta, Bhopal and Bangalore wherein lakhs of Hindus will be participating.  The inaugural Hindu convention will take place at Chandini Ashram, Mumbai on August 16, 2014.  On August 17th, Shoba Yatra from temple to temple right from wards to districts will be carried out in the State.
Lakhs of Hindus and representatives of Hindu leaders from various countries will be participating in a mega 'World Hindu Conference' to be held in Delhi on November 21, 22 and 23 of this year.  Hindu Economic Convention, Hindu Youth Convention, Hindu Women convention, Hindu Education Convention, Hindu Organizational Convention, Hindu Political Convention and Hindu Media Convention etc.  will be the part of year long celebrations.
Wide range of seva activities like blood donation, plantation of trees etc. will also be carried out during the Convention at various places.
Sri Gopalrathinam, Central Secretary, VHP informed that state-wide celebrations like awareness programmes on Hindu Dharma, women security, Shobha Yatra, Conventions etc. will be conducted. One lakh unit of blood donation on one day by Bajrang Dal volunteers during November will be a highlight during the Golden Year Celebrations.
Sri H H Narayani Amma, Sri Narayani Peetam, Vellore, His Holiness Saakthasri Sivalingeswara Swamigal, Kamatchipuri Adheenam, Kovai, Padmashri Dr. S S Badrinath, Chairman Emeritus, Sankara Nethralaya, Padmashri Krishnakumar Varier, Managing Trustee, Arya Vaidhya Pharma Trust, Padmabhushan Dr. Padma Subramaniam, Bharatanatyam Expert, Dr. Pari Vendhar, Founder-Chancellor, SRM University, Dr. V Mayilsamy, Senior Advocate, Coimbatore, Shri C R Baskaran, CBR Masala, Coimbatore, Shri Praful Sejpal, Businessman, Coimbatore were the Central Committee Members of the celebrations.
Shri Meyyaippan, VHP State President (Uttar Tamilnadu), Sri Divakar, State Secretary, Sri P M Nagarajan VHP State Organiser, Sri Rajkumar Khemka, Sri Vasudevan Treasurer were present.