Vidya Bharati at a Glance
The Beginning – With a humble beginning of Saraswati Shishu Mandir at Gorakhpur (Uttar Pradesh in 1952, Vidya Bharati did start its long journey and at present we have 12294 formal schools and about 9 thousand non-formal education centres especially single teacher schools spreading across all the states of Bharat with more than 35 lakhs students and 1.5 lakh teachers. With an ever-increasing demand for new schools, Vidya Bharati has been registering a continuous growth in all dimensions including the quality and quantity. It took a shape when it is named as Vidya Bharati in 1977, with all institutions getting affiliated to it through state bodies.
Our appreciation and implementation of NEP-20 with its true spirit –
While appreciating the path breaking recommendations of NEP, we implement the same with top priority. We are happy that it is Bharat-centric and has given thrust on man-making activity which has been the focus of Vidya Bharati right through with its 28 personality development initiatives. Most of our concepts of experimentation and practice, School – A Centre for social service, Sarvangin Vikasa (All round development), Panchakosatmaka Vikasa, Samagra vikasa (Holistic development) and Panchapadi process of learning have been given the prominent place in the National Curriculum Framework (NCF 23). Our expert team helped NCERT in preparing books for ECCE level.
Alumni in good positions to serve the society –
Out of 40 lakh alumni, 9.5 lakhs have got registered with our portal and rest is in the pipe line. They all hold respectable positions in the society to serve with a higher sense of social responsibility through Indian administration services, judiciary, ISRO, Sports, State Administration service, Defence and other diversified services. Our alumni stand as cultural ambassadors in 68 countries of the world and also contribute a lot to their respective countries.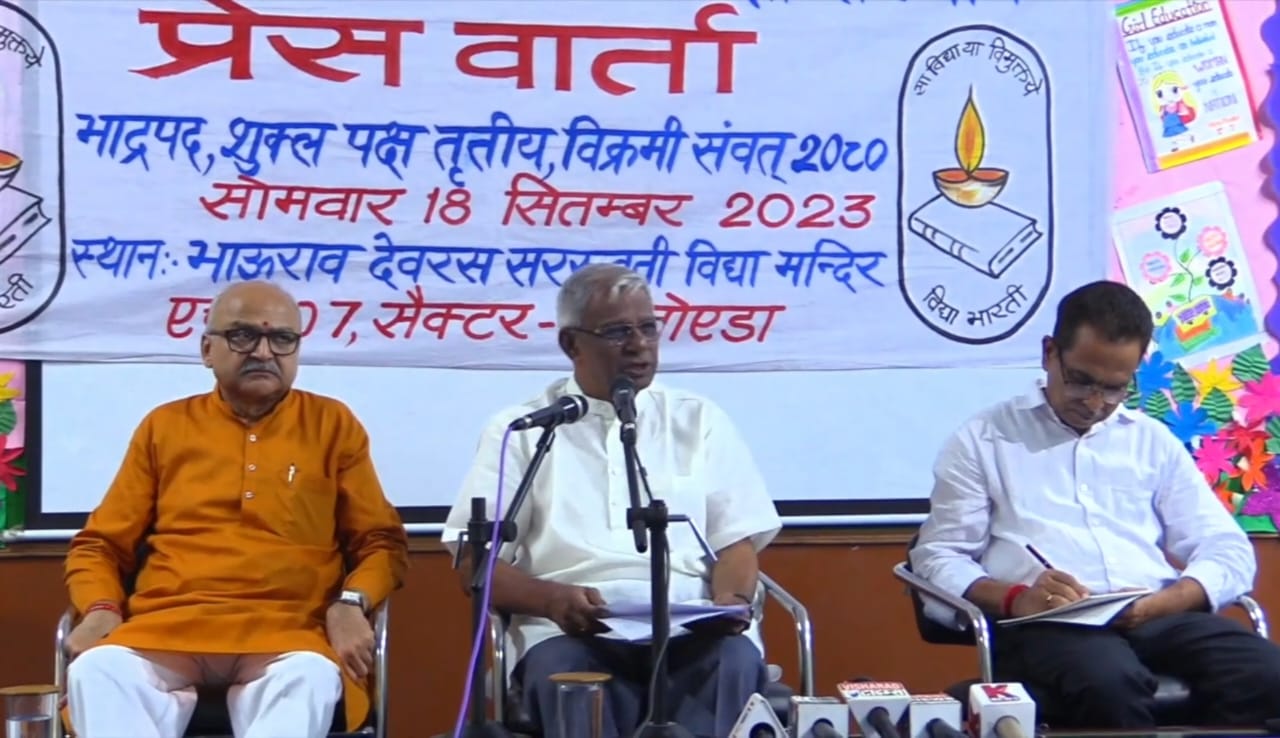 Our schools in Sensitive, Tribal, Unreached, Far-flung Border areas –
In the tribal areas of North East, Jharkhand, Odisha, Madhya Pradesh, Chhattisgarh, Rajasthan and Gujarat we are running more than one thousand schools where hostel facility is also available. Apart from this more than 20 thousand tribal students are provided free education in the urban area schools across Bharat. In the 167 border blocks we run 211 schools. We are planning to start schools in the rest of 153 blocks in due courses in the national interest and strategic importance. We run Sainik schools as per our Central government plan in 11 places viz.  Patna, Bhagalpur and Samastipur of Bihar, Malaparamb and Mavelikkara of Kerla, Mandsaur and Narmadapuram of Madhya Pradesh, Nabha of Panjab, Silvassa of Dadara Nagar Haveli and Shikarpur of Uttar Pradesh.
Vidya Bharathi in higher education –
Apart from school education, we have our presence in higher education by starting one university at Guwahati along with 53 higher education institutions – out of which maximum are education colleges.
Vocational Education Center – 4 Jan Shikshan Sansthan at Shimla and Mandi of Himachal Pradesh, Kifire of Nagaland and in Kargil of Laddakh, ITIs and 899 ATLs are being run with an aim to promote vocational and skill education. More are to come up.
Our Wings and Research Bodies –
We have Bharatiya Shiksha Shodh Sansthan at Lucknow to undertake basic and action research activity. Samarth Bharat Anusandhan Kendra – a basic research body of the foundational stage concentrating on 0 to 8 years of age children at Gandhidham, Gujarat. A vibrant modern training management system for teachers both at central and state level for continuous professional development. Manak parishad, a System of enrichment of school quality (SESQ) with headquarters at Bhopal. Vidya Bharati Samskruti Shiksha Sansthan at Kurukshetra for culture sensitization in which there are more than 25 lakh students, staff and parents participate every year.
Vidya Bharathi leads in board exam results –
Our school students find every year places in the merit list declared by respective education boards of states. This year also in 11 states (Uttar Pradesh, Odisha, Jharkhand, Uttarakhand, Chhattisgarh, Madhya Pradesh, Himachal Pradesh, Bihar, Haryana, Punjab and Assam) our 306 students distinguished themselves in finding a place in the rank list declared by respective states. 9 students of four states (Assam, Odisha, Uttar Pradesh and Jharkhand) stood first in the board examination.
D. Ramakrishnarao, President, Vidya Bharati Akhil Bharatiya Shiksha Sansthan