Pune (VSK). Saffron caps, saffron flags, slogans of Jai Shri Ram, 'Chhatrapati Shivaji Maharaj Ki Jai' and 'Chhatrapati Sambhaji Maharaj Ki Jai' marked the unity of the entire Hindu society in Pune on Sunday through a march titled Hindu Jan Akrosh Morcha. Thousands of Hindus participated in the march. Various organizations, political parties and organizations vehemently participated in the march. Many people enthusiastically participated in it from a four-year-old girl to an 87-year-old.
The march was organized by the Sakal Hindu Samaj with the main demands of declaring the sacrifice day of Dharmaveer Chhatrapati Sambhaji Maharaj (Falgun Amavasya) as Dharmaveer Day and enacting strict laws against love jihad, conversions and cow slaughter.
हिन्दू जन आक्रोश मोर्चा – पुणे में सकल हिन्दू समाज का प्रदर्शन

1. गोहत्या पर प्रतिबंध के लिए कठोर कानून बने
2. लव जिहाद को रोकने के लिए सख्त कानून की मांग
3. धर्मांतरण को रोकने के लिए कठोर कानून की मांग
4. छत्रति संभाजी महाराज के बलिदान दिवस को धर्मवीर दिवस घोषित करने की मांग pic.twitter.com/SoVXWb1voy

— VSK BHARAT (@editorvskbharat) January 22, 2023
Descendant of Chhatrapati Shivaji and MLA Shivendrasinh Raje Bhosale, descendant of Sant Tukaram Maharaj Shivaji Maharaj More, Hindutva leader Dhananjay Desai and Telangana MLA Raja Singh alias Raja Bhaiya had a prominent presence in the march.
The march started by saluting Rajmata Jijau at Lal Mahal. Then after performing aarti at Dagdusheth Halwai Ganapati, it reached the statue of Chhatrapati Sambhaji Maharaj at Deccan Gymkhana. The march concluded with a public meeting.
Speaking in the meeting, Shivendrasinh Raje Bhosle said, "Today I am seeing a saffron storm in the form of this march. Hindus of all castes and classes have come together today. We all feel that Hindutva should be protected and there can be no compromise in the protection of God, country and religion. Now we have no choice but to come together and we have not come together to hate anyone. That is why we have not raised slogans against anyone."
Taking note of those who made statements about the historical great men, he said that some people are making childish statements to preserve their vote bank and indulge in politics. He also demanded that the memorial site of Chhatrapati Sambhaji Maharaj should be declared as a pilgrimage site instead of a tourist site.
Dhananjay Desai appealed to all to maintain unity. He said that without Dharma, Shakti becomes evil and without Shakti, Dharma becomes weak. So, our unity is our strength.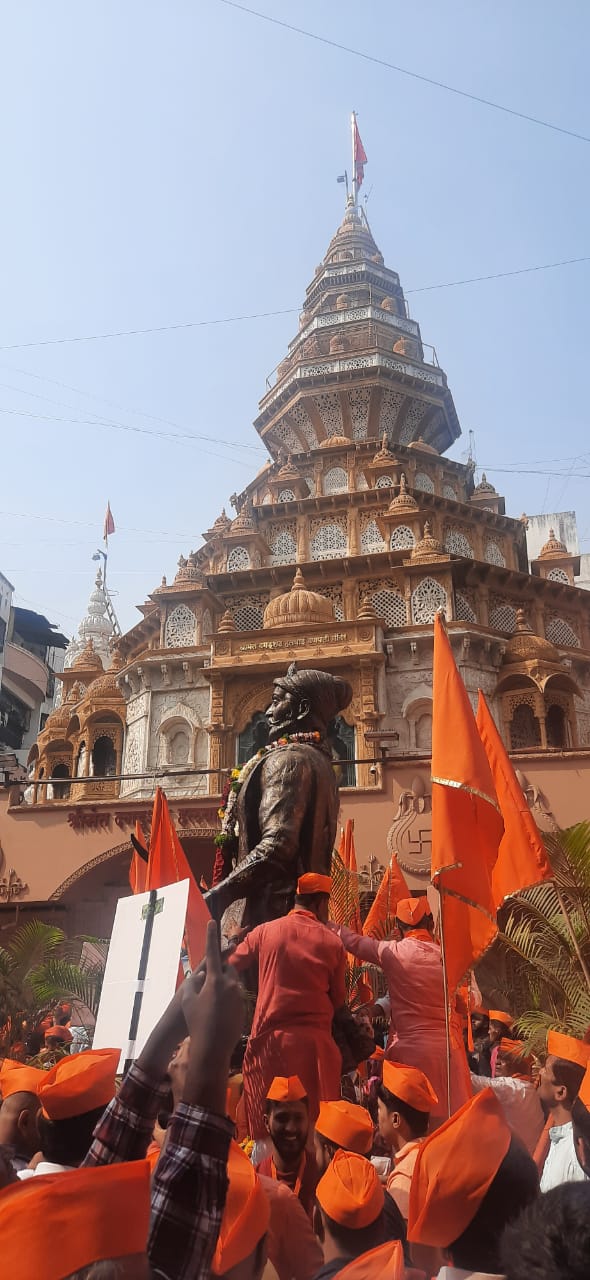 On this occasion, Raja Singh Thakur won the hearts of the audience by giving a passionate speech. He said, this is not a cry but a roar of Hindus. Nowhere else is Hindutva seen as much as in the Mawlas of Maharashtra. It is the ultimate duty of all of us to fight against conversion. Now every Hindu has to prepare himself like a soldier. Love Jihad conspiracy is spreading all over India. There should be a law against love jihad in the country. We don't want to fight with anyone because we want peace and happiness in India. Regarding cow slaughter, he said that cow is our mother and we will not allow cow slaughter.