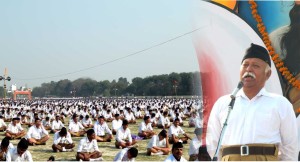 Kanpur. RSS Sarasanghachalak Mohan Bhagwat ji addressed a mega gathering of Swayamsevaks RASHTRA RAKSHA SANGAM at Kanpur on Sunday evening. RSS Sarasanghachalak addressed the gathering held at Railway station Maidan in Saketnagar, Kanpur.
RSS Sarasanghachalak Mohan Bhagwat said the organisation is keen to "Unite the Hindu society". While speaking at 'Rashtra Raksha Sangam' Bhagwat said that "the time has come when the entire society wants RSS and has expectations from it. To fulfil these expectations, the organisation must be expanded".
"The work of RSS is to unite the Hindu society and make it fearless, self-reliant and selfless, and the one which is ready to live and die for the country. It has to be brought into practice. What is the meaning of RSS shakhaa? We come together and forget everything else. Only 'bhagwa (saffron) flag' is in front of us and that is the symbol of pride," said Bhagwat.
Mohan Bhagwat said, "often the word 'show of strength' crops up. When we organise such programmes, it is said that these are show of strength by RSS. Those who do not have strength need to show it. We don't need to do that. We have our own strength. RSS moves ahead on the basis of its own strength. It is our 'atma darshan'." "In history, we were not behind anyone, but a handful of people made us slaves. In the last meeting of the Constituent Assembly, Dr BR Ambedkar said that the country was not lagging behind in anything, but due to selfishness some people gifted it to the Britishers on a silver platter and unless we practice brotherhood the threat will continue," he said.
"There is so much diversity in the country, irrespective of caste, language or regional differences we all consider Bharat as mother" Bhagwat said.