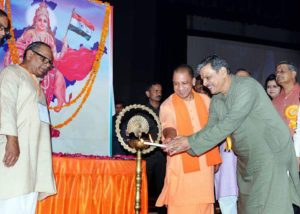 Lucknow (VSK). RSS Sah Sarkaryavah Dattatrey Hosbale Ji said there is no difference in Karma of the Keshav of Brij and the modern-day Keshav. In Kaliyuga, Keshav will come around to re-establish Dharma and destroy evil, in the form of Sangh (Unity), Sanghe Shakti Kalauyuge (only unity has power in Kaliyuga). This idea has been enhanced on the land Bharat since time immemorial. We need to unite the nation and take it to new heights. Let's move ahead strengthening the nation like a Banyan tree.
All the societies have been adopting some medium of communication in all ages. In all eras, the aim of the media should be to bring the right information in public interest. Communication and propaganda are two entirely different concepts. Communication is the most powerful way to convey a thought. Hosbale ji put forth these views speaking as a chief guest at a function organised by the Lucknow Institute of Mass Communication and Journalism and Prerna Institute of Mass Communication and Journalism.
He said journalism is at cross roads today. From being mission and profession it is degrading to become a commission-based business. India is a cooperative and co-participative democracy. Newspapers have been carrying designated contents to cater to the needs of all age and interest groups. People in responsible positions in media should try to self regulate themselves. In addition to rights, people must also accept the responsibility of self-regulation in democracy. There is a need to encourage cooperation and co-participation in the media as well. Sometimes, the truth does not come out due to absence of communication. The media has to speak truth fearlessly, even if it is costs life.
Speaking at the event, UP chief minister Shri Yogi Adityanath Ji said this year is the birth centenary year of Deen Dayal Upadhyay, who was inspiration behind concept of 'Antyodaya' and 'Integral Humanism'. Both Centre and the state governments are working to advance the concept of 'Antyodaya', which would remain relevant for all times. When it was floated, it grappled for public attention against philosophies of capitalism, communism and socialism. From those times, the idea of "Antyodaya" has travelled thus far. Those receiving relief cheques from government never had bank accounts and nor were efforts made to open accounts for them. He said we should also teach history of 200 years before independence. The story freedom struggle that started in 1857, need to be remembered even today. From history we need to learn about both pleasant and unpleasant sides. This time around 4 crore Kawar yatris completed their piligrimage without any hindrances. If loudspeakers are to be removed from places of worship, then there can't be any exceptions. If Namaz can be offered on roads, so can be Shobayatras be carried on roads.
He added that no would dare to confront with us if we collectively make them realize about our courage. Tilak called for celebrating Ganesh Utsavs in all villages. Yaduvamshis stopped celebrating Krishnashtami in police stations.  Deendayalji used to say existence of Bharath dates back even before Ram and Krishna. Many great men devoted their life to unify this land. And if we refer them as Hindu, we would be labeled as 'Communal'. Contrary to this approach, people in Nepal, Fiji, and Indonesia people take pride in being called Hindu.
Speaking on the subject of "Leftist violence and role of Media" well known author Adavita Kala ji said those who lecture us on freedom of expression mercilessly killed Sujith. 14 swayamsevaks have been killed in Kerala till now this year, with Rajesh being the latest victim of Red terror. Entire world is witness to the fact that most number of massacres were executed in Communist regimes. Santosh and Vimala were charred to death in their home. We all are aware about direct involvement of police associations in politics in so called secular state of Kerala.