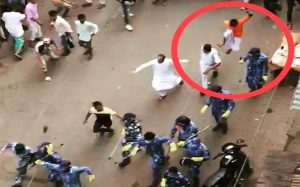 Law and order situation worsens under Mamata Banarjee's led Government
Kolkatta. On April 28 afternoon, some shops on Belilious Road in Tikiapara, Howrah, had raised their shutters and were engaged in the daily trade like before. The local police went to order the closure of these shops. But ultimately it resulted in a confrontation between the police and an irate mob. The local youths have also attacked and beaten up the police, as is evident from the viral video on social media.
The RAF team was chased, manhandled and police vans were vandalised by a Muslim mob on Tikiapara in Howrah. The police had gone there to enforce lockdown which was being violated with abandon.
The police and RAF took shelter in the local police station. The video shows the mob chasing the protectors of law to the police station and, consequently, attacking the police station with brickbats and pelting stones at it.
This led to a great repercussion in the administration, and the State Police issued a statement late in the evening, assuring that all those involved in the crime will be identified and stringent action will be taken against them.
The Municipal Commissioner of Howrah has been removed from his office late in the night. This incident has again raised the question: Is Mamata Banerjee's appeasement politics giving miscreants a free hand to attack the police in the State?
During the COVID 19 lockdown, the police have been attacked in several places in West Bengal.
In West Bardhaman District of Jamuria, the OC suffered a fracture in his leg during the confrontation with the mob. The police were also attacked in Birbhum District by the locals over setting up a quarantine centre at the place.
The most recent attack on the police yesterday at Belilious Road in Salkia, Howrah, has raised the alarm on the condition of West Bengal. Howrah is currently in the Red Zone of Covid 19 alarm in the State and lockdown should strictly be observed along the Belilious Road. The state administration claimed it has repeatedly raised the point of the potentially alarming situation of COVID 19 in Howrah. However, there is no explanation as to how such an incident could have occurred on Belilious Road yesterday despite all the cautioning and alertness claimed by the Mamata Banerjee-led Government.
West Bengal Police personnel attacked by stone-pelting mob for trying to enforce lockdown in Tikiapara, Howrah. Thanks to Mamata Banerjee' appeasement politics, her loyal voters are now attacking policemen, even while Bengal faces a tough fight against #Covid19 pandemic. pic.twitter.com/TXzNreKvvR

— BJP Bengal (@BJP4Bengal) April 28, 2020