It takes some time for a plant to establish its roots in the ground. During this time, it is equally important to take care of it with motherly feeling because only then the next generation gets nutritious food from the tree coming out of the seedling. With this spirit, Mamtabai Bhangre is working to preserve the nutritiousness and goodness of the seeds.
Mamtabai Bhangre's name is resonating continuously all over Maharashtra for last three years. Who is Mamtabai? I had the chance to go to her home and she was also invited to the Women's Studies class held in Akole, Kalyan Ashram in January 2020. She was honoured at many places after the Vanvasi Kalyan Ashram felicitated her and received many awards.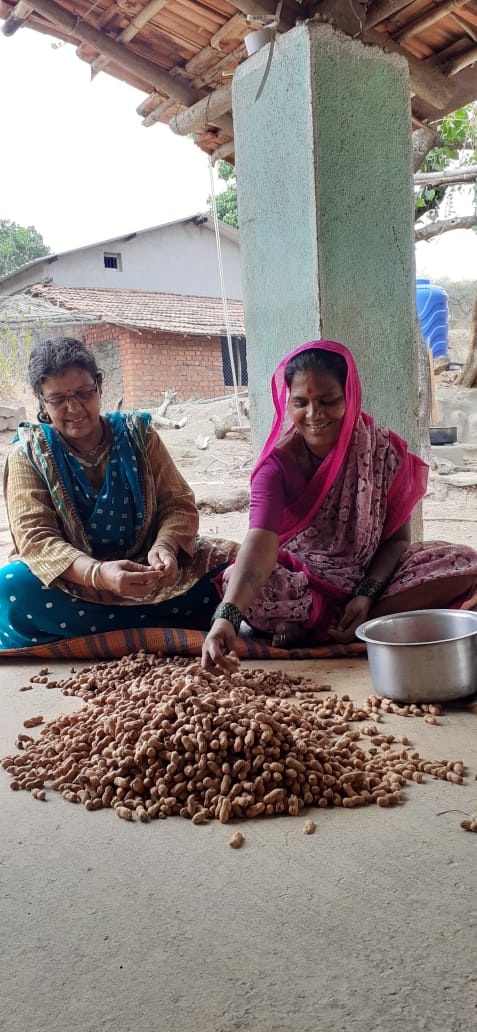 Mamtabai Devram Bhangre lives in in Devgaon of Akole tehsil of Ahmednagar district in Maharashtra. An illiterate woman can set a perfect example for organic (natural) farming is a significant fact. She is called Annamata (Mother of foodgrains). There is so much meaning in this name, isn't it? We work hard for the food grains that we grow in agriculture, love those crops, those seeds with our heart, take care of them like a small child by cultivating that small seed in a completely natural way. Those countless seeds get rooted in the black soil, sprouts sprout in it, gradually it becomes a plant and tree, fruit and flower followed by an indescribable spring come. That joy is obtained through continuous hard work.
Who does this? All farmers do, but Mamtabai's way is quite different. That's why she is called Annamata!!
She proudly says that she has inherited the legacy of seed protection, nurturing, culturing and planting from her mother-in-law. She had two mother- in-laws. Mother-in-law would always tell her daughter-in-law to follow the natural farming way. A lot of fruit and flower plants should be planted in front of the house. Wild vegetables should be protected. Considering the benefits that accrue from them, we should maintain that legacy. On top of all that, she used to say, "Don't sell any of it, remember this." Mamtabai's eyes fill with tears as she says this. She has received many awards, but it hurts her that her mother-in-law is not in this world to see them. The mother-in-law handled Mamtabai with motherly care and inspired for natural farming. She does not get overwhelmed by any award. Her feet are still on the ground.
Passion to preserve tradition
There are many plants in her courtyard. Tulsi, Grass tea, custard apple, Guava and Aloevera are few among many of them. While presenting them as gifts, the mother of food says, "Don't grow big on other's shoulders. Wild green vegetables and roots should be preserved and their medicinal properties should be understood."
She strives to keep the wild vegetables, that grow only during the rainy season, keep growing in the field throughout the year. She described many uses of Mahua flowers. Kheer made of Mahua flowers is very good. Sweet bhajiyas also taste good. She was telling the benefits and medicinal properties of so many plants and flowers. For proper care of all these plants she uses earthworm manure, jivamrit and cow dung manure. There are 2 bulls in her courtyard and their dung is used to produce bio-gas. To keep the Ambemohor, Raibhog and Kalbhat rice grown in the field good throughout the year, she stores it in kangi using the soil and cow dung. She made special efforts to store countless seeds in order to re-sow brinjal, jimmikand, dangar, kusum, ragi, etc. in the farm. If someone asks for it, she gives it immediately.
Some seeds are hanging as a toran in front of his house. Sparrows are not seen in the cities nowadays, but here sparrows are seen eating these turrets easily. When asked whether these seeds would not get exhausted if the birds eat them, she answers, they also has a right over them. Just as there are plants in her courtyard, similarly birds and animals that have become accustomed to humans like cats, dogs, pigeons, chickens and birds are also seen mingling with ease.
Her work is so great, that even IIT, IIM professors and students are studying her experiments in natural farming by learning management and research lessons from Mamtabai. Mamtabai recently received the 'Unch Majha Jhoka' award.  Apart from this, Mamtabai has received awards from many organizations like Shivaji Maharaj National Memorial Committee, Maharashtra State Marathi Journalists Association and Sahyadri Sankalp Abhiyan.
Her husband Devram Bhangre also helps in her work.
Regards to the Annamata who showers love, is proud, hardworking, a daughter of forest and a capable woman farmer.
Vaishali Deshpande
Paschim Kshetra Mahila Karya Pramukh
Vanvasi Kalyan Ashram
(Vishwa Samvad Kendra, Pune)