Navratri is a spirited festival to unite with nature and celebrate together. Navratri has a tradition of energy, power, achievement, bravery and valour. Navratri means victory over demonic ideology. We Indians see our 'country' as a mother or goddess (Bharat Mata). Nine forms of Goddess are worshiped during Navratri. If you look around, these nine forms of the goddess are found in your home. Mother, sister, friend, sister-in-law, mother-in-law, grandmother, aunt, paternal aunt, daughter-in-law and our maid – we meet Katyayini, Shailaputri, Saraswati, Mahadurga in these various forms. However, we don't know about the tribal Durgas (Vandurgas) who we must to take notice of, sometimes ignored by the society and sometimes because of their inferiority complex, scattered in the wilderness, standing on their own feet and worshiping the power that adds value to the lives of others. We are introducing some such Vandurgas on the occasion of Navratri.
An attempt to bring their energy, the umbilical cord of our culture in front of the society…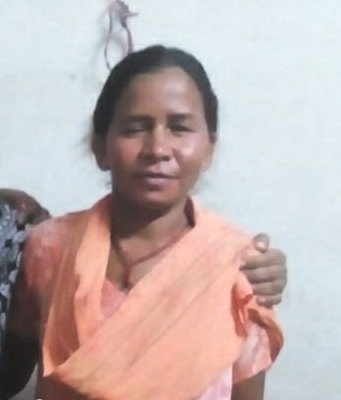 Courage Augmented by Social Service…
Naxalites took her to a very deserted area, a very dense forest and threatened her to abandon the work of the Kalyan Ashram. The girl stood unmoved, calmly without getting disturbed unfazed by the threat. Not only did she stood her ground but also explained, after some time, the Naxalites about the work of Vanvasi Kalyan Ashram with great confidence and told them about the importance of this work. The courageous Vandurga who returned safely from the clutches of Naxalites –
Rame Kunjam…
"I was blindfolded, my hands were tied, my footwear were taken off, and they were taking me through a road filled with thorns and pebbles. They were talking to me in Hindi and Gondi language, my mother tongue is Gondi. I belong to Gond community. They were also speaking in between in Telugu language. It was a dark night; there must have been four or five of them. There was a woman among them. She was also Gond which was evident from her speech. It   seemed from smell of the smoke coming from it that they had torches in their hands to find the way and I could also feel the heat. My eyes were tightly bound because of which I couldn't see anyone's face. My eyes were especially blindfolded so that I couldn't show the path to anyone else if I escaped from their clutches by chance. Darkness and only darkness was felt." Rame was recounting this thrilling experience fearlessly once during the chat after the meeting. We had goosebumps and some of us even were sweating…
Rame is a forest-dwelling girl living in Rokel in Chhindgarh taluka of Chhattisgarh. She is working for Kalyan Ashram for last 15 years. Naxal attacks are frequent in the area where she lives. But still, she is always traveling bravely in Naxalite areas like Dantewada, Sukma, Katekalyan. Rame, who lost her parents when she was a child, has a younger sister Krishna.
There is a small farm in front of Rame's house. Both the sisters grow essential vegetable and fruit farming in the same small farm and earn their living. This area has a high prevalence of Malaria also.
Once Rame was caught by the Naxalites and taken to a very remote area, in deep forest. They threatened her, "leave the work of the Vanavasi Kalyan Ashram," and said to her, "Why are you working for Kalyan Ashram? Leave it, we will pay you double. What do you get for doing this job? Tell us the name of your chief."
But Rame did not panic, nor did she waver. She did not budge. One cannot even imagine the mental state of a person after being caught and put up in front of the Naxalites. In such a situation, Rame explained why she worked for Kalyan Ashram and answered all the questions asked by them. Sensing that her determination will not waver even for a moment, the Naxalites let her off safe and sound. Rame was again blindfolded and passed barefoot through the dense forest. No one would have come to save her.
Rame came back because her courage, determination, confidence and luck were stronger. Having returned from the verge of death for two-day after strongly rejecting the Naxalites, it was realised that Rame has undergone well through the values of the Kalyan Ashram.
Rame, who is ninth class pass, runs Self Help Group and Satsang Kendra. Most importantly, she stops the conversions going on in that area. She explains Kalyan Ashram to people in own language… If anyone cheats someone in the village, she fights for it.  Boldness, outspokenness, fearlessness and self-confidence are all her inborn divine gifts…
Vaishali Deshpande
Paschim Kshetra Mahila Karya Pramukh, Vanvasi Kalyan Ashram
(Vishwa Samvad Kendra, Pune)