Navratri is a spirited festival to unite with nature and celebrate together. Navratri has a tradition of energy, power, achievement, bravery and valour. Navratri means victory over demonic ideology. We Indians see our 'country' as a mother or goddess (Bharat Mata). Nine forms of Goddess are worshiped during Navratri. If you look around, these nine forms of the goddess are found in your home. Mother, sister, friend, sister-in-law, mother-in-law, grandmother, aunt, paternal aunt, daughter-in-law and our maid – we meet Katyayini,
Shailaputri, Saraswati, Mahadurga in these various forms. However, we don't know about the tribal Durgas (Vandurgas) who we must to take notice of, sometimes ignored by the society and sometimes because of their inferiority complex, scattered in the wilderness, standing on their own feet and worshiping the power that adds value to the lives of others. We are introducing some such Vandurgas on the occasion of Navratri.
An attempt to bring their energy, the umbilical cord of our culture in front of the society…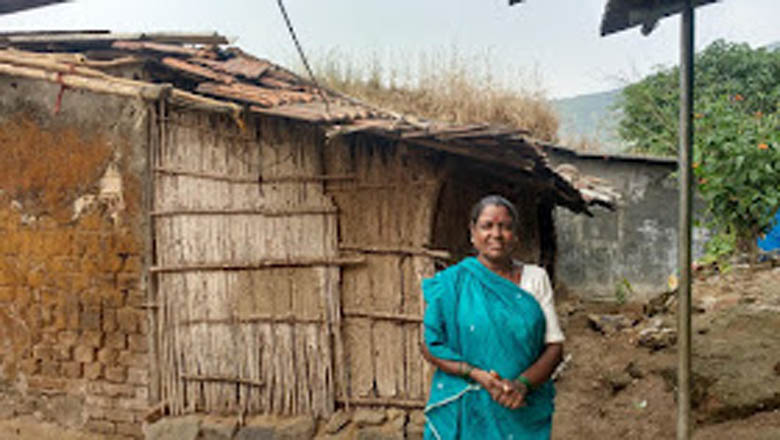 Thamatai Pawar
Thamatai is an ideal woman for tribal community. A pride of the community. No matter where a person is born, he or she is known to the society because of his or her work. Thamatai Pawar, who hails from the Katkari community, has created a role model for the society owing to her work. Thamatai, who joined the ashram school as a cook, not only progressed by studying there, but also contributed to the expansion of the same ashram school. Hence, Thamatai is known as the leading social personality of Maharashtra.
The main source of income for the residents of the tribal tehsil of Karjat (District Raigad) is wages. Hence all the families in the village suffer from poverty. Thamatai was born in one such family. She got married at the age of eight. Her mother-in-law brought her to the hostel with the intention of getting some work after marriage and Thamatai went on to become a part of the Kalyan Ashram itself. With the aim of contributing financially to the household, he started cooking at the Vanvasi Kalyan Ashram in Jambhivali (Karjat) village. At-first she used to make breads. Being very fond of singing bhajans and learning, she started writing letters on clay and flour. Considering her flair for letters and desire for education, she was also imparted lessons. Thamatai became literate and educated at the same time. She started reading and writing. An ordinary Katkari tribal woman was transformed into a capable, fearless and efficient personality. Kalyan Ashram plays an important role in this.
Thamabai, who was basically fond of social work, did not let her passion for doing something for the society. She started creating awareness about literacy and health through bhajans to prevent addiction and remove superstitions. In addition, she started kindergartens on tribal hamlets. Children were encouraged to come to school by going to house to house. She created awareness among women using bhajan and kirtans. The sense of addiction among women was disturbing her. From that she started strong efforts for alcohol prohibition. She searched for the causes of addiction among women and explored the solutions for them. She tried to free the women from addiction by providing employment opportunity to the women who were addicted due to lack of employment. She also fought against the tendencies of economic exploitation by taking advantage of the illiteracy of the tribals.
Taking note of this work, Vanvasi Kalyan Ashram involved Thamatai in the work of the organization. She is working for18 ashram schools in Maharashtra and to spread education and overall development of tribals in those areas. Currently, she is the president of the Konkan prant of Kalyan Ashram. In recognition of his work, she has received Hirakani Award, Matrusmriti Award, Dadhichi Award and V. Shantaram Award etc. She is the recipient of Adivasi Sevak Award by Maharashtra Government and Ahilya Devi Holkar Stri-Shakti Award by Central Government.
Once there was a meeting of women in Kota (Rajasthan). The meeting was going on in one of the halls of a big school which was a residential school. The school had all the facilities as there was a hostel for boys and girls there.
Everyone was in a hurry to finish their chores and go to the session. A large bathroom had 5/6 taps. At a time 5/6 persons could easily take their turn. The bathroom was built with children in mind. In order to finish everything quickly, women hurriedly threw soap wrappers, empty shampoo packets in the bathroom instead of the waste bin. Shampoo, soap wrappers and hair all got stuck in the pipe and the water overflowed, everyone started getting disgusted. Bathing became undesirable standing in stagnant water. But no one noticed what caused the water to overflow. Thamatai saw it and quickly moved forward, straight-handedly pulling out the pipe, reaching her hand up to the arm and scooping out all the trash and throw it into the trash can. The water that had accumulated for so long was washed away in a moment. The occasion came and she managed it. But there was no 'I did it' expression on her face, she immediately got cleaned and left the place. She saw the situation and easily overcame it. Her natural demeanor is always felt through many works.
A person with many facets
Easy to mix with everyone, easy to talk, caring for everyone, after receiving so many awards, crediting everything to Ashram saying 'This is the work of Kalyan Ashram, I am nothing', bringing Many Katkari women to the fore, singing bhajans in a beautiful voice, connecting many people to Kalyan Ashram by talking about own work through kirtan…!! These are many of her facets!
Thamatai stands for a nine-yard saree worn in a special Katkari way, a big vermillion on the forehead, a bun of hair, looks like a Panduranga's Rukhmini!!! Her cheerful, smiling personality always remains before the eyes.
This is the introduction of this modern goddess among common people who has extraordinary achievements.
Three cheers to the work of Vandurga Thamatai.
Vaishali Deshpande
Paschim Kshetra Mahila Karya Pramukh, Vanvasi Kalyan Ashram
(Vishwa Samvad Kendra, Pune)