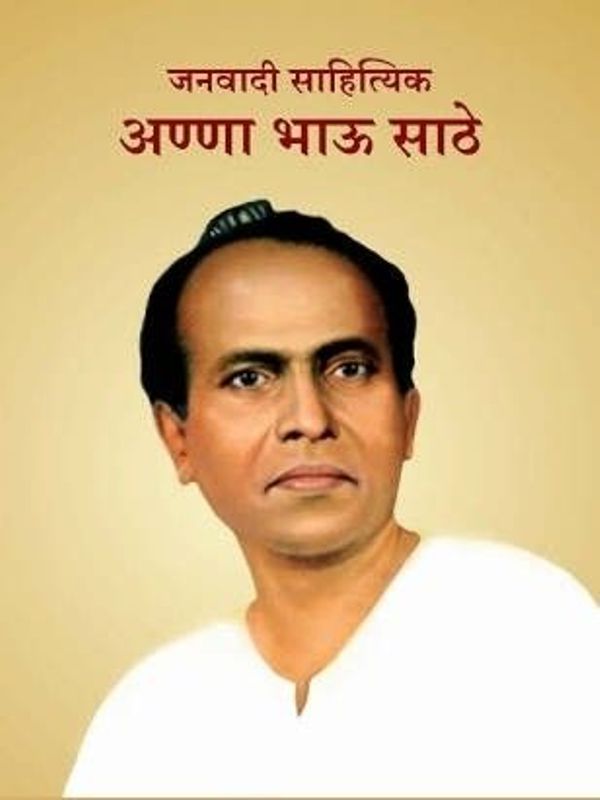 Lokshahir Annabhau Sathe…! The great personality who is popular for his command over Marathi literature is actually well known in the whole world now. He composed literature in which Dalit, peasants, workers, women, deprived classes and other exploited people in society were in a leading role. By developing literature around these elements in society, he put forward their sufferings along with creating awareness among them in the society. He was truly involved and touched by pains and pleasure of society. He had composed many stories, novels, folk-drama (loknatya), lavani powade, travelogues. He is among those realist in the Marathi literature who is world famous due to his great ability in literature.
Annabhau started writing. He was aware of his ability to write and was having many things on which one can write. He thought that he must write on whatever he had to face in his life especially about his suffering with all significances. He felt that it was the aim of his life. And that is something which we really appreciate. Fifth Vice Chanscellor of SAPPU Dr. Devdatta Dabholkar has defined literature and writer very nicely. He said that "सरस ते साहित्य आणि समरस तो साहित्यिक" means simplicity is significance of literature and complete involvement in it is significance of writer who write it.
To describe about stories of Annabhau in single line, one can say they are about the people who were struggling to live. These people are not going to surrender easily in life. They want to win despite of all odds. They are prepared for every worst condition in life. This spirit and dynamism can be read in his stories. Many time we experienced uncommon stories of common people around us but do we really have such a sensitive mind?
Once Annabhau was travelling with Tamasha -party of his maternal brother. When they were at Rethare village in Walawa Taluk, suddenly Krantisinha Nana Patil arrived in that show. His speech was so inspirational that Annabhau himself started working in freedom struggle while remaining underground.
In 1931 due to his mother's suggestions his father Bhau Sathe decided to shift his family to Mumbai. They travelled very difficult path from Wategaon to Mumbai   not for enjoyment but for bread.
Aggitations, Bandhs, lockdowns by workers in Mumbai made some positive as well as negative effects on Annabhau. These movements build up such a confidence in Annabhau's mind that this earth is not balancing by snakes hood, but by workers hands. He started his career as worker from Bhaykhala suburb of Mumbai. Annabhau was wandering with a bag of new and old cloths on his head for one hawker of cloths, to sell them. Second World war was approaching very close. Many things were happening in the country as well. After some days he left that job and took up job as waiter in hotel, servant, doorkeeper at cinema hall, mine worker, pipe fitter at water supply department and tought that no job is less -important. He had explained "Shramopanishadha" through his work.
There is very strong extremism in his Shahiri. His awareness about class-struggle was very sharp. His voice was of deprived classes. His concept of Dalit was very broad, it include all exploited and deprived classes. ("जो जो शोषित आणि पिडीत तो तो दलित")
The common man from grass-root level was the subject of his literature. He was hero of his stories and dramas. There is a strong appeal to break the chains of injustice in his literature. The dynamism in the thoughts of Dr. Babasaheb Ambedkar was his constant inspiration. "Change the world with breaking the odds" was the principle Annabhau adopted from this great leader. He stood firmly with exploited classes against socio-economic elites. He inspired deprived classes through his writings. He developed feeling of global brotherhood because of workers movement.
"Khulamwadi" is collection of stories by Annabhau. He expressed feelings of one non-dalit character -named Vishnupant Kulkarni with same enthusiasm as he expressed about deprived classes.
Due to China made corona virus pandemic more than six crore people became prisoners of poverty worldwide. The most miserable condition is of common people especially who are living on daily wages. To safeguard from this pandemic central govt. declared first lockdown on 25 March. After that during these three months workers from Mumbai-Pune started going back to their villages. Sometimes they travelled hundreds of miles without any vehicle, sometimes at night to avoid hot summer with their small kids…! This had proved life threatening for them.
The whole workers class is exploited by corona.
"जग बदल घालूनी घाव,सांगून गेले मला भीमराव" means 'Change the world with struggle' is a mantra which is given by Dr. Babasaheb Ambedkar. This slogan is created by revolutionary writer Annabhau Sathe. He was great philosopher with dreams of equal and balanced society. Thus Annabhau's work should be appreciated and highlighted. His identity should give inspiration in right direction to society. The problems in society like unemployment, superstitions, convergence and many unnecessary traditions are to be eliminated. The brainstorming in such a meetings should inspired to the volunteers who tried their best to establish monuments of Annabhau at Chiragnagar and Krantiguru Lakhuji Vastad Salve in Pune.
The communist China has thrown life of the workers along with the whole world in death valley. If Annabhau would have been alived today, he must have marched to Indo-China border to ask justice to China. He would have been built up very strong support from people against China. He should have been gone to the Russia to punish China. He was full of love and respect for his country. In this situation he might have been surrendered his life for sake of country.
Annabhu always supported common men and trust their ability. He believed in equality, compassion and unity. He wanted all human beings to live with dignity, with family and with satisfaction. He wanted to established such a society in which no one will exploit to another. There is no place for fraud, corruption, exploitation and selfishness etc. The principals of Liberty, Equality and Fraternity will be upholded. He also wanted such a system in which state is based on ethics. Where all kind of work is supposed to be dignified. 'बहुजन हिताय, बहुजन सुखाय' this principle should be followed by State. This kind of state was imagined by Annabhau.
The great soul who love this land, people and Nation, The person who was ready to scarify his life for his motherland…that is Annabhau ….Tribute on his birth centenary…!
Dr. Sunil Dadoji Bhandage.
Head Of Department, Savitribai Phule Pune University "LokShahir Annabhau Sathe Adhyasan"