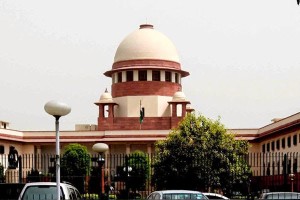 NEW DELHI: The Supreme Court on Monday ruled that fatwas issued by shariat courts or muftis had no legal sanctity, asserting that the defiance of fatwas will have no civil or criminal consequences.
The court said it would be illegal to impose these religion-based opinions on personal issues on citizens in violation of their fundamental rights.
"Whatever may be the status of fatwa during Mughal or British rule, it has no place in independent India under our constitutional scheme," a bench of Justices Chandramauli K Prasad and Pinaki C Ghose said.
"Any person trying to enforce a fatwa by any method shall be illegal and has to be dealt with in accordance with law," it added.
There have been bizarre fatwas covering almost the entire spectrum of social life of Muslims — from banning a popular all-girls Kashmiri band leading to its disbanding, to asking Muzaffarnagar's Imrana to treat her husband as her son after she was raped by her father-in-law.
In fact, it was the mushrooming of fatwas, ranging from dissolution of marriage to dress code for women, which led advocate Vishwa Lochan Madan to file a PIL questioning jurisdiction of shariat courts, Dar-ul-Qaza (personal law courts) and Deoband muftis in dictating social behaviour of citizens and, in the process, virtually setting up a parallel judicial system on issues relating to Muslim personal law.
"A fatwa has no legal sanction and cannot be enforced by any legal process either by the Dar-ul-Qaza issuing that or the person concerned or for that matter anybody. The person or the body concerned may ignore it and it will not be necessary for anybody to challenge it before any court of law," said Justice Prasad, who authored the judgment.
"In case any person or body tries to impose it, their act would be illegal. Therefore, the grievance of the petitioner that Dar-ul-Qazas and Nizam-e-Qaza are running a parallel judicial system is misconceived," the bench said.
The All India Muslim Personal Law Board (AIMPLB) had told the apex court, "Establishment of a network of judicial system throughout the country to help Muslims get their disputes settled by qazis may not have police powers but shall have the book of Allah in hand and Sunnat of the Rasool and all decisions should be according to the book and the Sunnat. This will bring Muslims to Muslim courts. They will get justice."
But the bench was not amused. It said, "The object of establishment of such a court may be laudable but we have no doubt in our mind that it has no legal status. It is bereft of any legal pedigree and has no sanction in laws of the land."
Though the court said existence of Dar-ul-Qaza and issuance of fatwas were not per se illegal, it clarified that "it is not a decree, not binding on the court or the state or the individual. It is not sanctioned under our constitutional scheme".
It discussed the adverse impact of fatwas on people for whom religion was a matter of unflinching faith in the almighty. "As fatwas get strength from the religion, it causes serious psychological impact on the person intending not to abide by that," the bench said.
The court cited the stand of Deoband Dar-ul-Uloom's stand to emphasize the deep psychological impact of fatwas. The Deoband Dar-ul-Uloom had said, "The persons who are god-fearing and believe that they are answerable to the almighty and have to face the consequence of their doings/deeds, such are the persons who submit to fatwa."
In this context, the court recounted the harrowing tale of Imrana of Muzaffarnagar, UP. "Though neither the wife nor the husband had approached for any opinion, an opinion was sought for and given at the instance of a journalist, a total stranger. In this way, the victim has been punished. A country governed by law cannot fathom it.
"In our opinion, one may not object to issuance of fatwa on a religious issue or any other issue so long as it does not infringe upon the rights of individuals guaranteed under law," it said.
The court said fatwas could cause "immense devastation" and advised Dar-ul-Qazas and muftis not to issue them unless asked for by the person involved or the person having direct interest in the matter. "Fatwas touching upon the rights of an individual at the instance of rank strangers may cause irreparable damage and therefore, would be absolutely uncalled for. It shall be in violation of basic human rights," it said.
Madan had sought a direction to the Union government and states to take effective steps to disband and dissolve all Dar-ul-Qazas and Shariat courts and to ensure that they did not function to adjudicate any matrimonial dispute under Muslim personal law.
He had also requested the SC to quash attempts to "establish a parallel Muslim judicial system" by ordering AIMPLB, Dar-ul-Uloom Deoband and other Dar-ul-Ulooms in the country not to train or appoint qazis, naib-qazis or muftis for "rendering any judicial service of any kind".
Neither Union of India nor AIMPLB denied that Dar-ul-Qazas had been set up and qazis and naib-qazis were trained, who issued fatwas. But they said these were mere alternative dispute settlement forums not in conflict with the existing judicial system.
Dar-ul-Uloom Deoband admitted to issuing a fatwa in Imrana's case as per Fiqah-e-Hanafi, which was based on Quran and Hadith but asserted that it had no agency or power to enforce its fatwas. It was at the discretion of the person concerned to obey the fatwa.
Source : TOI