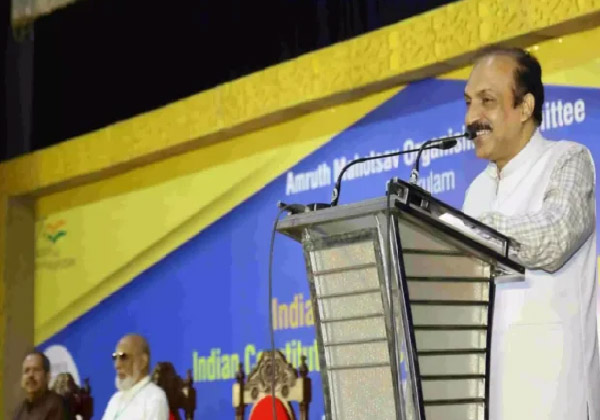 Kochi, Kerala. "I was shocked and amazed when someone made a comment that the colour of the undergarments of judges is saffron", Justice N. Nagaresh said. He was speaking at the National Seminar on Indianisation of Indian Judiciary.
Justice N. Nagaresh of Kerala High Court has reacted to the contumacious remarks against the Judiciary made by a leader of the Popular Front of India on Saturday.
Justice Nagaresh also said that "there is a deliberate attempt to discredit the judiciary". He said that out of three pillars, people have started losing faith in legislature and executive, but, that faith in the judiciary is still intact.
"There are some organizations which say that we don't accept this Constitution. We have some other texts which we will implement after we come to power. But they fight for their rights under the Constitution", the Judge said.
He wondered whether constitutional protections should be extended to those who don't approve of the Constitution of India. Once you discredit the judiciary, you discredit the Constitution, Justice Nagaresh said.
On the Indianisation of the Judiciary, the subject of the seminar, Justice Nagaresh referred to the remarks by the Chief Justice of India CJI Ramana that the need of the hour is the Indianisation of our judicial system.
He stressed on the need for having court proceedings in the local languages so that common litigant can understand the proceedings.
He said that some judges and lawyers are opposing having court proceedings in local languages. "What about the common man? We function as if the system is for lawyers and judges", Justice Nagaresh said. He acknowledged that there are issues like having precedents in English etc.
"I am not ignoring it. But the common man feels out of place. We should not treat the common man as aliens in Court. The system should change. That is the call given by the Chief Justice of India. Common man still doesn't understand how the system functions", he added.
Justice Nagaresh was speaking at a session that was presided by Senior Advocate Govind K. Bharathan. A paper was presented by Advocate C. K. Sajinarayanan, Second National Labour Commission, on the subject 'Indianisation of Judicial System'.
PFI attacked Indian Judiciary –
After the Kerala High Court expressed its shock over children being used in political and religious rallies, a PFI leader made a rather distasteful comment on the judiciary on Saturday. In a video, the state committee member of the PFI said that the courts were getting shocked pretty soon these days. The member, identified as Yahya Thangal, went on to elaborate on the reason, saying that it was because the judges were wearing 'saffron underwear'.
He had also said during the public speech that the judge of Kerala High Court who granted bail to Ex-MLA P. C. George in the hate speech case was a junior of the then BJP leader and the current Governor of Goa, P. S. Sreedharan Pillai.