Bengaluru.  A social media post on Prophet Muhammad led to violence in Karnataka's Bengaluru on Tuesday. Major violence broke out in KG Halli area after the protesters alleged that Congress MLA R Akhanda Srinivas Murthy's kin had allegedly uploaded a derogatory post about Prophet Muhammad on his Facebook account.
A large mob of Muslims have torched and destroyed the house of Congress MLA Akhanda Srinivas Murthy in North Bengaluru. Akhanda Srinivas Murthy is a MLA from Pulakeshinagar constituency, which is reserved for Scheduled Caste (SC). The mob has also attacked the DJ Halli Police station shouting slogans of 'Allah O Akbar'. The exact reasons have not yet been ascertained by the police but sources say that the arson by the mob is a purported anti-Islamic post by the MLA's nephew.
Scary reports of the mob attacking passerby's, torching parked vehicles, shouting Islamic slogans have been reported in several areas of Bengaluru. RAF have been deployed at the Kaval Bairasandra where the MLA's house is situated. Police are on alert all over the city and are trying to stop escalation of the arson to other parts.
Videos of the mob burning the MLA's house and the DJ Halli police station have been shared on social media by citizen reporters. The arsonists belonging to one religion were seen pelting stones and throwing bottles on Police from building terraces. Even the fire engines which came to douse the fire were not spared by the mob. The media person who went to the spot to report the incidents were also attacked by the mob.
The way the attacked was simultaneously carried out at several places indicate that it was pre-planned attack by the mob. Chiranjeevi Bhat, Journalist with Hosa Digantha Daily, narrates the sequence of events that led to the arson by the Muslim mob.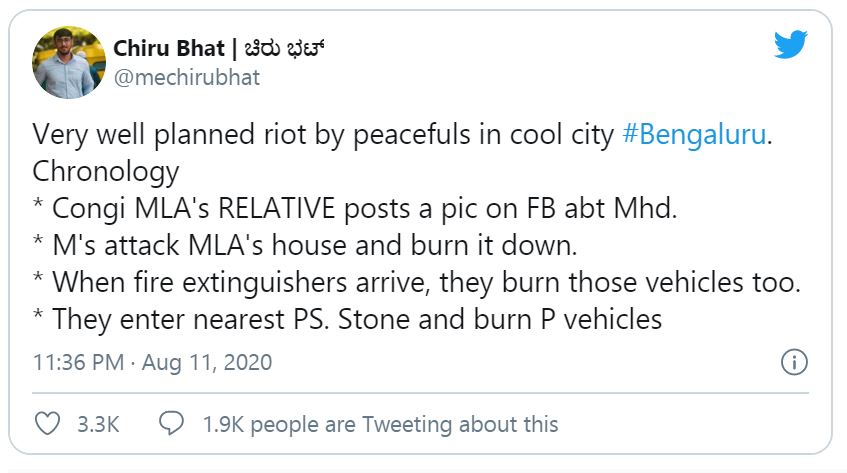 "Very well planned riot by peacefulls in cool city #Bengaluru. Chronology
* Congi MLA's RELATIVE posts a pic on FB abt Mhd.
* M's attack MLA's house and burn it down.
* When fire extinguishers arrive, they burn those vehicles too.
* They enter nearest PS. Stone and burn P vehicles", he wrote on Twitter.
"* Everyone gathered are well equipped with stones, knives, petrol, kerosene etc.
* M's are asking names of people walking on the streets and hitting them.
* Situation is still not under control.
Do you people believe this happened all of sudden without any plan?", he asked.
https://www.timesnownews.com/india/article/violence-in-bengaluru-over-social-media-post-on-prophet-muhammad/635528
https://www.republicworld.com/india-news/law-and-order/violence-breaks-out-in-bengaluru-over-fb-post.html