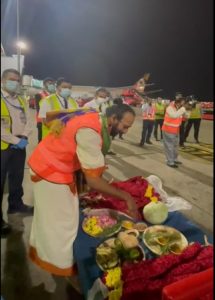 Chennai. A traditional Ganapathi puja was performed before the Air France flight service invoking the blessings of Ganapathi and Kalikamba in Chennai.
After the second wave of pandemic, Air France Airlines launched its 276-seater direct flight services between Paris and Chennai from 28th June.
The inaugural flight, a 276-seater three-class configured Boeing 787-9, touched down at the Anna International airport here Sunday, sporting the Indian and French flags.
The crew members of the flight were accorded a traditional reception and were presented garlands and bouquets.