BHUBANESWAR Aug 10: Sarasanghachalak of Rashtriya Swayamsevak Sangh, Dr. Mohan Rao Bhagwat said 'the festival of Raksha Bandhan is not just to celebrate the relationship between a brother and sister but also strengthens family values.'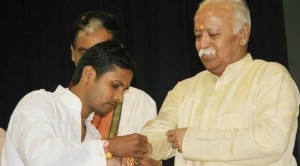 The significance of Rakhi goes beyond the bounds of family and symbolises the bond of love, protection and brotherhood. "It is not about individual security. It inspires us to fulfill our responsibilities towards the society, protect our culture and tradition and promote an atmosphere of universal brotherhood paving the way for global peace and prosperity," said Bhagwat while addressing a function organised by Sanskruti Surakshya Samiti (SSS) here on Sunday.
Stating that Raksha Bandhan has national significance, Bhagwat said celebrating the festival is one of the way to protect Hindu culture and live the values enshrined in it.
The first step to progress is security. The country needs food, water, land, economic growth and above all, border security. Laxity in any of these areas will endanger national security and it is the responsibility of the people to ensure that economic development does not affect its culture as found in Western countries.
Among others, Economics Professor of Utkal University Kumarbar Das and president of Sanskruti Surakshya Samiti Sanjit Panda also spoke.