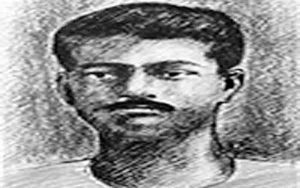 Sachindra Nath Sanyal was a freedom fighter of Bharat and the founder of Hindustan Republican Association that was created to carry out resistance against the British Empire in Bharat. Under this association, he set up Hindustan Republic Army in 1924. He was the mentor for revolutionaries like Chandrashekhar Azad and Bhagat Singh. Several of his brothers and cousins were also active participants in the country's freedom struggle.
Sanyal was extensively involved in the plans for the Ghadar event and went underground after it was exposed in February 1915. He was a close associate of Rash Behari Bose. After Bose escaped to Japan, Sachindranath Sanyal was considered the senior-most leader of India's revolutionary movement. He was sent to the dreaded Cellular Jail in the Andamans and in jail he wrote the famous book "Bandi Jeevan" (A Life of Captivity). This book is by revered by freedom fighters of Bharat.
Sanyal was well known for his firm Hindu beliefs. Sanyal was briefly released from jail but when he continued to engage in anti-British activities, he was sent back to jail and his ancestral family home in Varanasi was confiscated. Thus, Sachindranath Sanyal has the unique distinction of having been sent to the Cellular Jail in Port Blair twice. He was suffering from Tuberculosis in jail. He was sent to Gorakhpur Jail for his final months. He died on 7th Feb 1942.