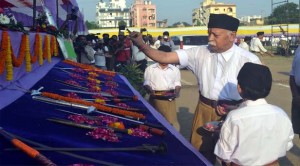 Nagpur Oct 3. Sarsanghchalak of Rashtriya Swayamsevak Sangh Dr. Mohan Bhagwat today appealed that, we have to build a new "Great & Dream Bharat" where prosperity comes hand in hand with ethics and rationality. We as a responsible citizen of this country should come for this great task with our full of energy for this Dream Bharat, which would lead the World in future.
On the occasion of Vijaya Dashami RSS celebrates its foundation day and Sarsanghchalak gave his yearly remarkable speech every year. Today he tried to approach different issues of national interest,
international issues, social problems, government functions and some issues of individuals. The speech
was focused on "Integral Humanism" theory.
About "Dream India" he pointed out that, we have faith on our culture which based on the mantra of
"Vasudhaiv Kutumbakam". We have various ideologies, thoughts, languages, but we are one. The only
country in the universe, which have such identity and therefore we are just like a "Big Brother" of entire
world.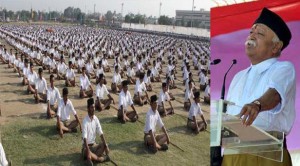 The entire world is in dilemma and many countries are just struggling from various problems like terrorism, human rights, violence and many more problems. For peace and human development they  want strong leader. We have capacity to lead the world. With the ideology of without destroying way of life of any society, prayer system or national or cultural identity we can set welfare for all, he further added. Talking about nation building he focused on some central government decisions. He said that, in a very short period some policy initiative taken by the central government in national interest on the various  issues like economy, national security, international relations have raised hopes of every Indian. "Clean India" movement should be public oriented and we have to contribute our efforts.
We can't depend on government every time. We have to educate our family members by all means in national interest.
We must remember that the self reliance should be necessary component of national prosperity and security. We need to wait for some more time for building this nation with positive attitude, great hope and full faith, he added.
On personal contribution for nation building he demanded personal contribution from all Indians. He appealed that, we have to build "Great Bharat" by all means and for that dream nation is calling.
Development is continuous process and a lot more is yet to be done. RSS is has been engaged in nation  building since its foundation. So, we all have to join by all means this great dream of "Great Bharat".