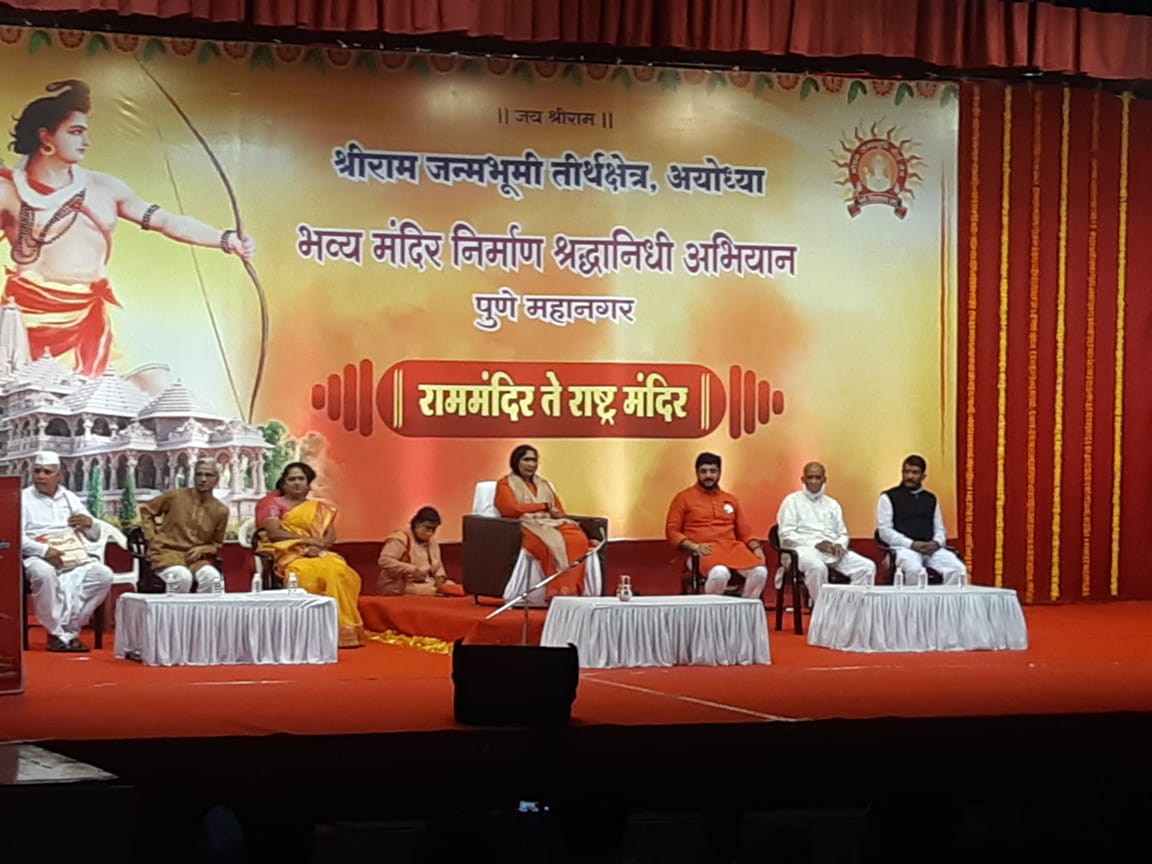 Pune (VSk).Construction of Shri Ram Mandir is not a small event but the dream of our forefathers is coming true. This is a matter of our self-esteem. Didi Maa Sadhvi Ritubhara said that this will make the nation stronger.
She made this statement in a public meeting held in Pune on the occasion of Shri Ram Mandir Nirman – Ram Mandir to Rashtra Mandir Shraddha Nidhi Janajagaran Abhiyan for Shri Ram Janmabhoomi, which will take place at Ayodhya. In the program held at Ganesh Kala Krida Manch here, Mayor Murlidhar Mohol, Deputy Mayor Saraswati Shedge, RSS Mahanagar Sanghchalak Dr. Ravindra Vanjarwadkar, H.B.P. Shivajirao More, Pandurang Raut of VHP, Sanjay Mudrale Prant Pramukh etc. were present on the stage. A large number of karyakartas were present in the hall. The hall was filled with the slogans of Jai Shriram.
With her eloquent speech, Sadhvi Ritambhara Ji glorified the donating tradition of Ramdas Swami by proclaiming Bharat Mata Ki Jai, Akhand Bharat Ki Jai and calling for patriotism the House. Calling 'To pour a cloud of dedication /Samarpan', she appealed for the building of a strong nation. "Continuity is very important in any matter. The lamp of temple construction should be kept burning in every mind," she said. Patience has helped us to see the success of temple building today. No matter how many difficulties or storms come, they will not affect the temple construction process. Every section of the country, the society will be involved in this construction work. This will keep the flame of self-esteem burning. Many have made significant contributions to the construction of the temple. Many have been sacrificed. Their dream is now coming true. Temple construction is not a matter for one party but for the whole country. She appealed to make this resolution a reality. "A temple is being built that will last for a thousand years and no one can even dream of demolishing the temple in the future. The truth is as bright as the sun. We must make arrangements so that the bad times of the Middle Ages do not come again," she said.
Initially, Kaustubh Purohit performed a group song. After that, the image of Shri Ram was worshiped on behalf of Sadhvi Ritumbharaji ji and the attendees. After that, Tushar Kulkarni, Paschim Vibhag Pramukh of Vishwa Hindu Parishad informed about the fund campaign. Mayor Muralidhar Mohol expressed his thoughts. The event was hosted by Parag Thakur.