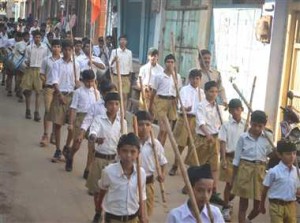 Chennai. The State government has moved appeals before the Madras High Court challenging a single judge's order allowing the Rashtriya Swayamsevak Sangh (RSS) to take out a procession as part of its founder's day celebrations.
The government submitted that issuing permission was solely within the domain of the executive. As per decisions of the High Court, the court should not have issued a positive direction to grant permission to hold meetings/processions.
However, a Division Bench comprising Justices Satish K. Agnihotri and K.K. Sasidharan on Tuesday, November 18, declined to stay the single judge's order of November 7.
After the court granted permission, the RSS tried to take out processions at seven places, including Chennai and Coimbatore on November 9, but the police detained them.
The government appealed that the judge had erred in arriving at a finding that Section 41-A (1) of the Chennai City Police Act did not apply to processions. The legal provision should be read as a whole. The sweep of the provision was very broad and included within its scope movement of an assembly, i.e. a procession. The RSS members wore uniforms resembling that of the police force. For this reason, Section 41-A was applicable.
When the matter came up, counsel B. Rabu Manohar took notice on behalf of the RSS office-bearers, who had earlier filed the petitions.