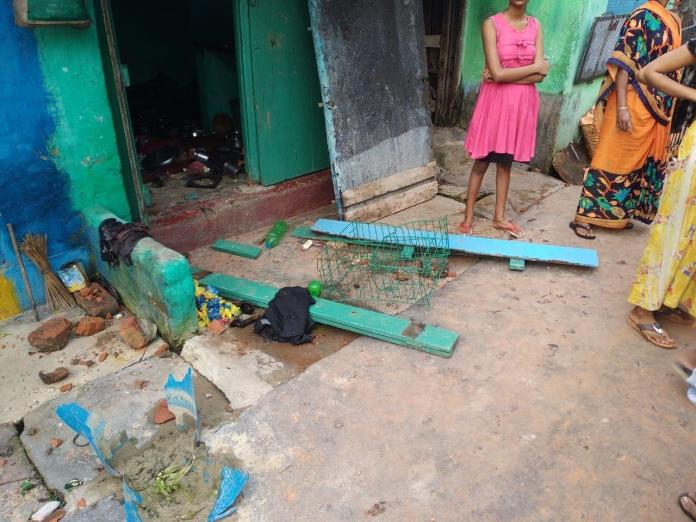 Kolkatta. Against the backdrop of ever-growing Covid19 infection in the State, West Bengal, is also facing a fresh aggravation of its communal virus infection. West Bengal with one third of her population being Muslims & having a CM known for her politics of Muslim-appeasement, has often seen agressive spurts of Islamic violence in various parts of the State. In Mamata Banerjee's regime, such communal virus attacks have gained momentum & become more frequent as the State Administration doesn't do enough to check them in right time. This inaction is perhaps attributable to the verbal recommendation of the Chief Minister to allow the minorities act as they wish. The State's actions often indirectly reward the rioters & law-breakers through various means. Mamata Banerjee said they're her 'milch cattles' & hence she's ready to tolerate even the kicks they threw. West Bengal, hence, is again facing another dreadful communal attack by Muslims in Hooghly district putting common Hindus into extreme suffering & huge financial loss.
Telinipara area of Chandannagar in Hooghly has been exoposed to an atrocious communal turmoil for last 2 days. A boisterous anarchy set in as the Muslims of the area attacked the houses of Hindus with arms. They looted their shops, vandalized & burnt their houses, vehicles & spared not even a Pharmacy. It was a rainy evening on May 11 when Muslims of Telinipara suddenly launched a tempestuous attack upon the adjacent Hindu community with swords etc. It came as a bolt from the blue to the Hindus as there was no pre-existing tension in the area. Reason of the attack was revealed to be weird enough. People of the area were tested for Covid 19 & a number of Muslims came positive. It was known that some of them recently came back from Ajmer Pilgrimage. Local administrative authorities approached to take them & their contacts to the quarantine Centre which infuriated them. They refused to be quarantined. Muslims were frustrated & enraged that only they were coming Covid positive & not Hindus. Hence, they stepped to vent out their anger by attacking the Hindus. They spitted at them in order to infect all.
In the same Hooghly district at Singur, 45 out of 70 Muslim persons of a quarantine Centre were tested Covid positive when the Medical Authority thereof wanted to have them moved to the nearest Covid Hospital. There too, they attacked the health workers refusing to move to the Hospital & demanded treatment in the quarantine facility itself. Due to administrative failure and/or inaction, the quarantine Centre unofficially turned into a Hospital which, however, had no infrastructure to treat the symptomatic Covid patients. The peculiarity of the situation put the doctors & health workers there in a soup.
State administration remained inactive. Witnesses reiterated that Police synchronised with the goons to facilitate attacks upon Hindus. MP of Hooghly, Locket Chatterjee went to the area & was stopped by the Police to enter due to 'security reasons'. The MP anxiously expressed that if she, as an MP was not 'secured' in that area, what could be the condition of poor common Hindus? She became anxiously verbose about the apparent failure & inaction of administration.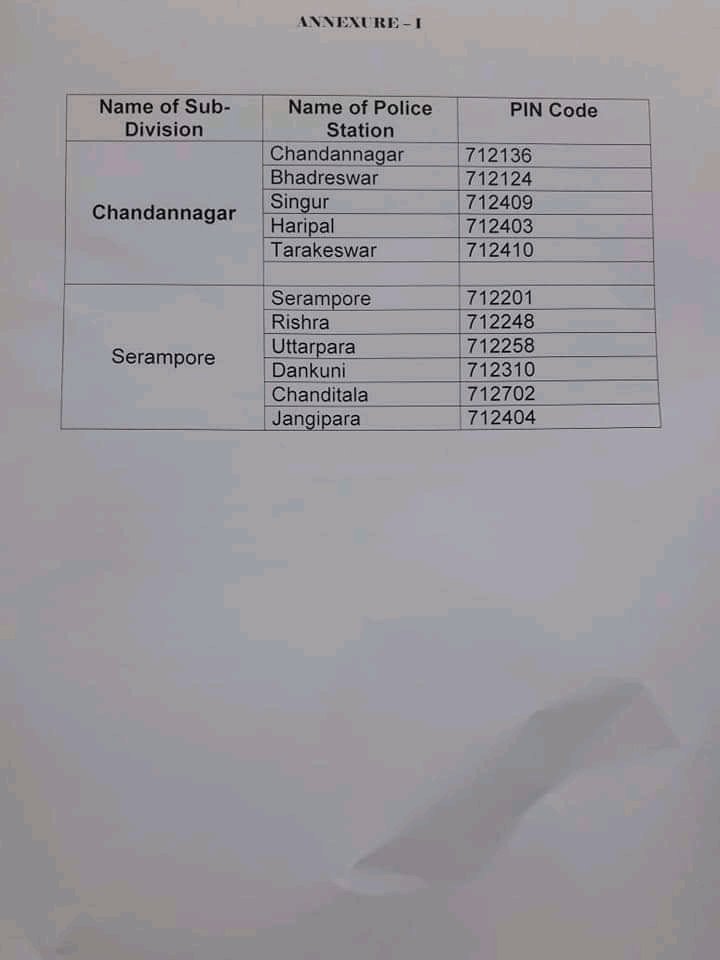 Many videos were coming from the riot-struck area. Vehicles were burnt black, houses, shops vandalized & broken into pieces. Roles of local councillors named Feroz Khan & another were being reported by locals. Sources said that along with local Muslims, Feroz gathered outsider Muslims too for this purpose. Videos are in the cloud that there were brick-pelting, arson & repeated bombing. Black smoke fumed like dark clouds, covered the area, birds flew away in the reverse direction out of fear. The plight of common peaceful people was utmost. A local Hindu girl was terrorized while describing how their house was attacked like mad & how they banged on their door. Her father faced the goons pushing her & her mother away. She broke into tears out of fear for her father's safety. Question has been raised by Hooghly's MP Locket Chatterjee that how could they gather so many bricks together in a place. She deduced the incident to be deliberate & pre-planned. Moreover, from the deafening silence of West Bengal CM in this regard, the incident appears to be pre-sanctioned by the ultimate authority of the State.
While West Bengal Chief Minister didn't want to share details of Tableeghi Jamatis residing in West Bengal for 'security reasons'(as per her words in the press meet) & marked questions about their whereabouts as 'communal question' & silenced the press reporters, she herself remained completely silent when the riot of Telinipara was truly communal in nature. Moreover, while videos were being uploaded from the riot-struck Telinipara, internet there was shut down by the State Administration from late evening yesterday. Areas like Tantipara, Shagun Bagan adjacent to Mahatma Gandhi School & Faiz Ahmed Faiz School etc were taken into ransom by agressive rioters. People had been posting those videos in the Social Media while mainstream media of West Bengal had under-reported the incident as a conflict between two groups.
It needs to be mentioned here that communal violence broke out not only in Hooghly but also in Chandipur village of Harishchandrapur PS, Rashidabad GP, Malda on the same day. Members of Muslim community expressed their disgust upon Hindus of Chandipur. They vandalized a Radha Krishna temple & even some Dr. Das's dispensary because he tried to resist the goons.
It also needs to be mentioned here that all these tumultuous pandemonium started in the State after the Bengali Imams Association wrote a letter to the Chief Minister of West Bengal that during this ongoing pandemic, they didn't want any Celebration of Eid on 25th May & hence, requested the CM to extend the lockdown in West Bengal at least till May 30. IMAMs assured WB CM that they won't resist even if she decided to open the State partially or ask embarrassing questions regarding her decision. They candidly expressed that human life was much more important to them than Eid. They suggested that even if the Government of India decided to lift the lockdown, the State might continue. Such a letter from Muslim clerics seems to be an intelligent strategic move by the parallel Islamic political lobby of the State. Through the letter, IMAMs indirectly asserted that they tend to control the administrative decisions of West Bengal Chief Minister. They also provided a subtle stimulus to WB CM to decide otherwise differing from GOI's decision regarding Lockdown. This provokes the idea that West Bengal CM's steady conflict with the Central Government is perhaps fuelled by Muslim Clerics of the State.
By issuing such a generous letter, Islamic Clergy indicated that they would completely endorse the State Government. This gesture of them got support of the liberal Non-Muslim people of the State too. Non-conservative approach of Muslim Clerics not to celebrate Eid this year for Human Health has touched the emotions of common Non-Muslims. It needs to be pointed out here that Muslim Clerics don't represent only the theocratic religion but they are the socio-politico-economic guardians of the entire Muslim community. All general activities of common Muslims require Clerics' nod. Hence, in the current situation, by issuing a letter of support to WB CM, the Clergy has perhaps tried to strategically dissociate themselves from any outbursts that happen in the State henceforth. And that raised eyebrows of those who are aware of cunning moves of Islamic politics. Doubts are being raised that Islamic Clergymen have formalized their support for the Government perhaps in order to carry out outbursts & outrages all over the State UNOFFICIALLY. Such an apprehension may not appear meaningless if one looks into the chronology of events such as IMAMs' letter & the communal attacks in Hooghly & Maldah. The riots are known to happen after the IMAMs let the press know about their official standpoint. Through this letter, IMAMs perhaps sent a clear message that Muslims as a community cannot be held responsible for any violence or any flouting of lockdown rules hereafter, as IMAMs have officialized their support for lockdown & pandemic management. Immediately after that, on the same day, brutality against Hindus began in Telinipara. The chronology appeared significant.
In case of Muslims, the 'Clergy' is the 'society'. Individual Muslims have 'umbrella coverage' of Clergymen's protection. Neither do they have any separate existence nor any separate responsibility. Hence, those who are aware of shrewd moves of Islamic politics, are worried that such a letter of support to the Government is perhaps a secret code of perrmission in reality, given to common Muslims to flout rules & create havoc time to time, place to place. State Administration's inaction too can, hence, be observed being in congruence with the above apprehension. Would WB CM have to pay the price for the letter of support issued by Muslim Clerics?
However, the real embarrassment is, how long would the Clergymen of a theocratic religion control the socio-political discourse of a SECULAR country? How long would general Muslims regard their Clerics' words above the law of the land? From behind the veil of the word SECULAR, how long Islamic Theocracy would puppet the CM of West Bengal?
Source – Ritam Bangla