Jawaharlal Nehru University is all set to make its presence felt in Kerala. JNU signed MoU with Mahatma Gandhi College of Mass Communications (MAGCOM), Kozhikode, on November 25, 2022 at Delhi. JNU Vice Chancellor Prof. Shanthishree Dulipudi Pandit and MAGCOM Director A.K. Anuraj signed MoU.
Prof. Dulipudi said on the occasion that collaboration and co-operation between the universities and the higher education centres are part of the New Education Policy. She expressed her pleasure in signing an MoU with a media institute like MAGCOM.
MAGCOM Director Anuraj said that MoU with JNU is a part of the collaboration with varsities of international standard. The programme took place in the chamber of JNU VC.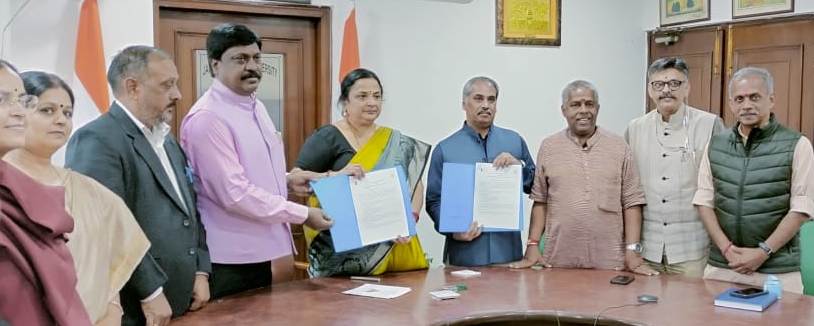 Hereafter Kerala students can study, the journalism courses offered by JNU, sitting in their home state.
Prajna Pravah National Convener J. Nandakumar, Praful Ketkar (Editor, "Organiser" English weekly), Dr. N.R. Madhu (Editor, "Kesari" Malayalam weekly and MAGCOM Governing Body Member), JNU Centre for Media Studies Professors Manukonda Rabeendranath and Shuchi Yadav and Assistant Professor Dr. R.K. Reeta Soni and CSRD Professor Koushal Sharma participated.
MAGCOM will be inaugurated on November 28 at "Kesari Bhavan", Kozhikode. "Kesari Bhavan" has got all modern amenities for hosting journalism classes with all state-of-the-art systems required to meet the contemporary requirements. Since sky is the limit for the career in journalism, the new venture will be a milestone in journalism studies in the state.