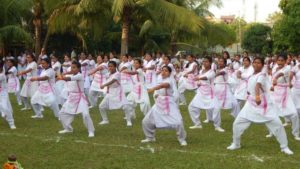 The year was 1936. Almost ten years after the Rashtriya Swayamsevak Sangh (RSS) was formed in 1925, Laxmibai Kelkar met Dr. Keshav Baliram Hedgewar to discuss the idea of women participating in the RSS activities. She wished that women must contribute their bit towards nation building. Laxmibai's son regularly attended the Shakha at Wardha, Maharashtra.
A decision was taken to establish an organisation that would enjoy the support and guidance from the Sangh. It was also affirmed that despite having the same ideological and visionary tilt, both organisations would function independently of each other. Thus, Rashtra Sevika Samiti was formed, a women's only organisation actively involved in inculcating cultural and moral values along with patriotism. It was to be done by uniting women and channelising their skills and intellect for the benefit of our future generations and the nation.
False Narrative about Admittance
Being quite active on social media and a vocal supporter of the Sangh ideology, I am often asked, even mockingly at times, about why women don't attend Sangh Shakhas and why RSS does not admit female members. It's quite evident that this false narrative about gender discrimination in the RSS is being built and presented by the BJP's political opponents who view the RSS as a colossal challenge that now stands firmly between them and the unaccounted, boundless power that they have enjoyed for several decades. There is no need for an explanation, but for those who are genuinely concerned about the stature of women in society and women empowerment, it is important to present few facts about the organisation and their founding principles.
Unlike the patriarchal image that is being portrayed, the RSS has a very clear view that women are the inspiring force not just for their families but also for the society and the nation. In his address to the Rashtra Sevika Samiti, RSS Sarsanghchalak Mohan Bhagwat had specifically mentioned that Bharat would not be able to achieve its full potential and pristine glory in the world unless 'Matrushakti' is given due respect and significance.
Bharat's is one of the rare cultures in which worship of the feminine has prevailed. Our culture teaches us to worship Maha Lakshmi, Maha Saraswati and Maha Durga. Interestingly, as a mark of respect, we Hindus give the stature of mother to what we consider sacred, whether it is the pious Ganga, the Holy Cow and even our nation that we lovingly address as 'Matrubhumi'.
So where exactly did the question of patriarchy arise when every morning, at the break of dawn, lakhs of Swayamsevaks across thousands of Sangh Shakha begin their day by paying obeisance to Ma Bharati?
Sangh Against Patriarchy
RSS chose to enhance and channelise these two unique energies to provide maximum benefit to the society by giving them different responsibilities best suited to their abilities and expertise. In fact, their diverse roles are meant to complement, rather than contradict each other, where a man and a woman, in spite of their contrasting energies, co-exist in harmony and complete coordination, not just to bring up their own families but also to nurture a healthy eco-system so as to build the foundation of a strong society. Hence, it is important to understand, that for the RSS, which draws its inspiration from the Hindu way of life, both men and women have separate-but-equally-important roles even in nation-building.
With a strong belief that women are by no standards the weaker gender, the Rashtra Sevika Samiti trains their Sevikas not only in outdoor sports but also teaches them skills like horse riding and sword fighting, which help them develop physical capacity and are confidence-building exercises. The Samiti recognises and celebrates the inherent qualities of a woman – 'Matrutva,' i.e. Universal Motherhood, 'Kartrutva,' i.e. Efficiency and Social Activism and 'Netrutva,' i.e. Leadership. An exemplary mother like Jijabai, a capable administrator like Ahilyabai Holkar and a brave, fearless leader like Rani Lakshmibai of Jhansi are the role models of the Sevikas. It is with this strong 360° mindset that they actively participated in the 'Quit India Movement' in 1942 and also contributed their services during rescue efforts after the Bhopal gas tragedy and natural disasters like the Latur earthquake and Morbi floods. "Build the individual to build the nation" – is the motto that is the driving force of the Samiti. Living up to it, the Sevikas have committed themselves to various social service projects that include schools, libraries, computer training centres and orphanages. Currently, they have almost 475 fully operational service projects all over Bharat. These seva projects cover all aspects of service to humanity – from Swasthya (health) and Shiksha (education) to Seva (service), Sanskar (value-education) and Swavalamban (Self-reliance).
After earnestly and tirelessly working for more than 80 years, the Rashtra Sevika Samiti has grown to become the world's largest Hindu women's organisation working selflessly to uphold Bharatiya culture and traditions not just in India but also across 22 nations around the world. The Samiti currently operates in 5215 active shakhas. 875 centres conduct the Shakhas on a daily basis. Presently, the strength of the Samiti is almost 4 lakh members.
Today, the RSS and its affiliate, the Rashtra Sevika Samiti have built a strong, deep-rooted network of selfless nationalists, not just in India but across the world, and their number is only increasing. In spite of several attempts by their critics to malign their image, their conscious decision to remain low key and not publicise their work has made no difference to their growing popularity.