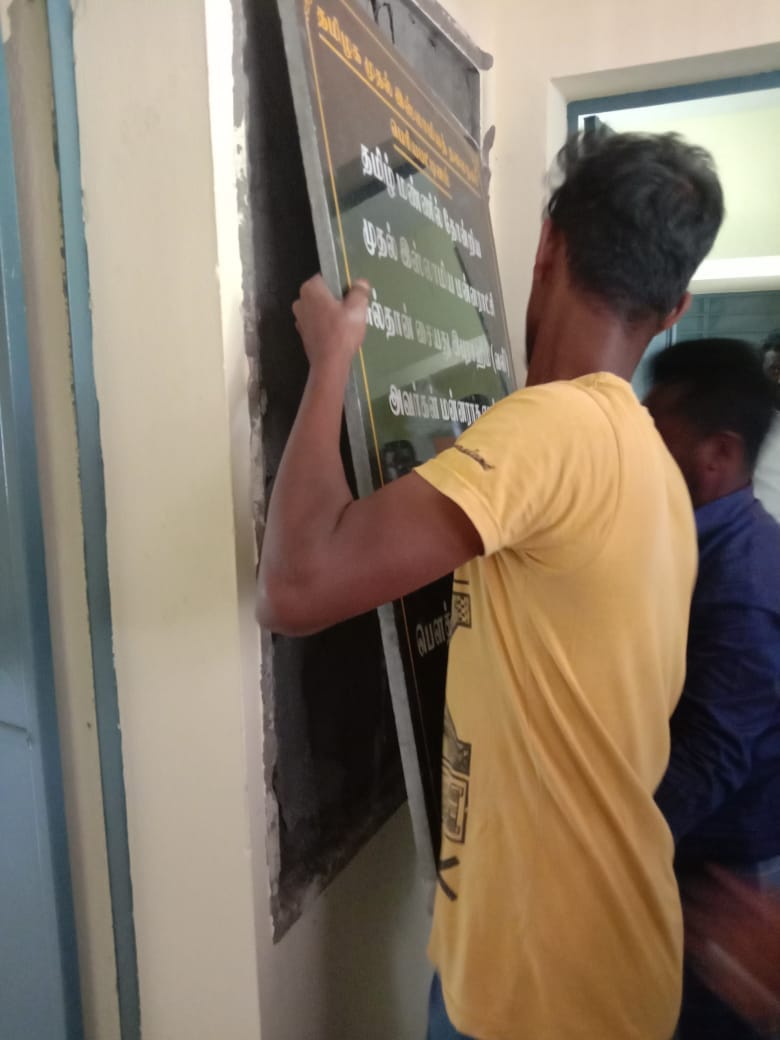 Chennai (VSK). Govt. of India has initiated several measures to empower village panchayats/local bodies with a view to strengthen democracy and village Pradhans. But certain, Muslim majority, village panchyats/local bodies, misuse the powers betraying popular mandate. In such villages there are illegal levies on movement of outsider vehicles/people. Against the Constitution they had sworn in, attempts are made to impose Islamic laws.
One such incident happened in the village Periapattinam, in Ramanathapuram District, TN. The newly constructed village Panchayat office was to be declared open by the area Member of Parliament Mr. Nawaz Ghani, October 18. The routine event has turned out to be a major issue challenging the integrity of the nation. An attempt was made to re-write history, already stuffed with misinformation and blacks out of our glorious past.
A "Tablet" was installed in the new building with controversial inscriptions, quoting selectively from the "archives" of  South India Temple Document, authored by one K.N. Subramanian. It claims "Bhouthiramanica-pattinam", the erstwhile Periapattinam, was the capital of the first "Mughal Kingdom" in Tamil Nadu,  for 12 years (1195 to 1207 AD), ruled by "Sultan Sayeed Ibrahim".
Athma Karthick, State BJP youth wing secretary and other party activists, swung into action forcing the removal of the tablet. They also complained to state party leadership and demanded investigation by the Union Ministry for Home Affairs.
This serious incident was never reported in both, electronic and print media of the state. But has been the trend in social media, Facebook. The Panchayat has opened a FB account in January 2020. The Panchayat Head is Akbar Jhon Bivi. The SDPI, Socialist Democratic Party of India, the political outfit of the PFI, Popular Front of India and Tamil Nadu Towaheet Jamat (TNTJ), are very active in the village. The Panchayat FB account carry many posts/forwards of  SDPI and TNTJ. SDPI has opened a FB account at the same time with an ID "PPmedia".  On 18/10/20 a delegation lead by SDPI/TNTJ and local Jamat  approached the district authorities to say "NO" to , the Central Govt's Initiative Jal Jeevan Yojana, to provide piped drinking water to every household in the country. The Panchayat President was not in the delegation. The authorities insisted on written, signed, request with Aadhaar Nos, of all those opposing the scheme. Even if 100 or 200 people in the village want the scheme, it will be implemented, the officials pointed out.
As per the 2011 census the village has 357 houses with a population of 1550, with enviable literacy rates of male 95.7% and female 91.8. %. From time to time, media carries reports of "Jamat" interfering/influencing the state officials, but the Kazhagam Govts turn a blind eye for obvious reasons. MHA should take cognizance and initiate investigation into the anti-national activities.